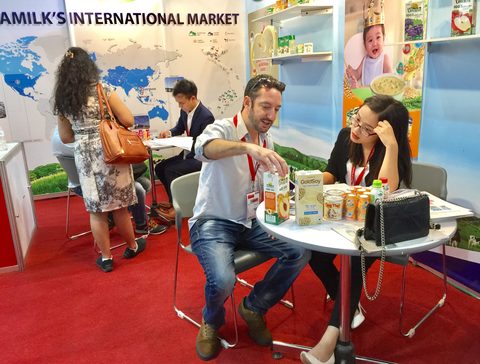 The Nikkei Asian Review on Thursday released its second annual Asia300 Power Performers Ranking, a compilation of the most powerful and valuable listed companies in Asia.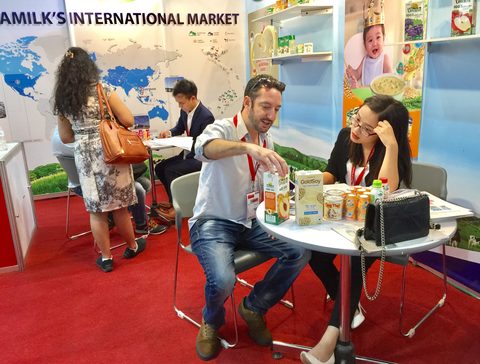 Viet Nam Dairy Products (Vinamilk) at THAIFEX-World of Food Asia 2017 in Bangkok. Vinamilk was ranked 8th in this year's list of the 300 most powerful companies in Asia according to Nikkei Asian Review.
Viet Nam Dairy Products (Vinamilk), the country's largest food processor, took the eighth spot.
Earning the top spot was Taiwan's Largan Precision, the world's leading maker of lenses for smartphone cameras.
Two other Taiwanese companies cracked the top 10, with Taiwan Semiconductor Manufacturing Co, the world's largest semiconductor foundry, grabbing the No 5 spot, and Eclat Textile, which has about 9,000 employees, placing seventh.
Indian IT service provider HCL Technologies came in at No 2, followed immediately by fellow Indian players Zee Entertainment Enterprises (No 3) and Tata Consultancy Services (No 4).
Backed by solid personal consumption, Indian companies won a leading 10 of the top 30 spots, outperforming their Chinese and Southeast Asian counterparts.
Rounding out the top 10 were Chinese internet giants Alibaba Group Holding (No 6) and Tencent Holdings (No 9), and state-owned airport operator Airports of Thailand (No 10).
The top 30 comprises 10 companies from India, six from China, four from Taiwan, two each from Thailand, South Korea, Malaysia and the Philippines, and one each from Viet Nam and Indonesia.
The Asia300 Power Performers Ranking analysed 327 companies on the list, taking into account four factors, including growth, profitability, efficiency and financial soundness.
Analysis is based on five metrics: average revenue growth rate over the past five years (growth), average net profit growth rate over the past five years (growth), ratio of net profit to sales (profitability), return on equity (efficiency), and equity capital ratio (financial soundness).
Points were assigned for each of the criteria, and companies were ranked according to their cumulative scores.
The data was provided by QUICK-FactSet. There were revisions to the calculations between the 2016 and 2017 rankings.
The Asia300 is Nikkei's exclusive list of the 327 biggest and fastest-growing companies from 11 economies across the continent, excluding Japan. Selections are based on market capitalisation, with consideration also given to growth potential and geographic balance.
Nikkei also publishes a series of stock indexes based on the Asia300. The main Nikkei Asia300 Index comprises 316 companies from the list (as of March 2017).

The top 10 companies in the 2017 Asia300 Power Performers Ranking are:

1/ Largan Precision, Taiwan, Electronic components
2/HCL Technologies, India, IT services
3/ Zee Entertainment Enterprises, India, Movie/entertainment
4/ Tata Consultancy Services, India, IT services
5/ Taiwan Semiconductor Manufacturing Co. (TSMC), Taiwan, Semiconductors
6/ Alibaba Group Holding, China, Internet retail
7/ Eclat Textile, Taiwan, Textiles
8/ Việt Nam Dairy Products (Vinamilk), Việt Nam, Food
9/ Tencent Holdings, China, Internet software/services
10/ Airports of Thailand, Thailand, Transportation
VNS
Link
http://news.c10mt.com/search/label/vietnambreakingnews
and
http://news.c10mt.com
Links Topics :
http://news.c10mt.com/2017/06/vinamilk-on-list-of-nikkei-asian_15.html