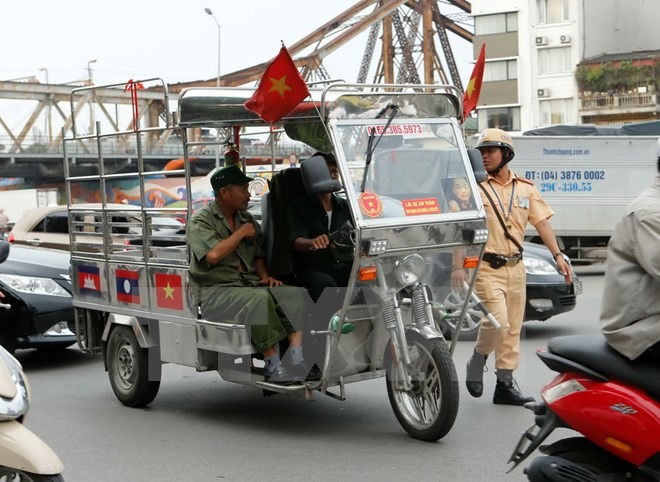 Hanoi's Department of Transport has proposed a roadmap to the city's People's Committee to withdraw unqualified three-wheelers from the city.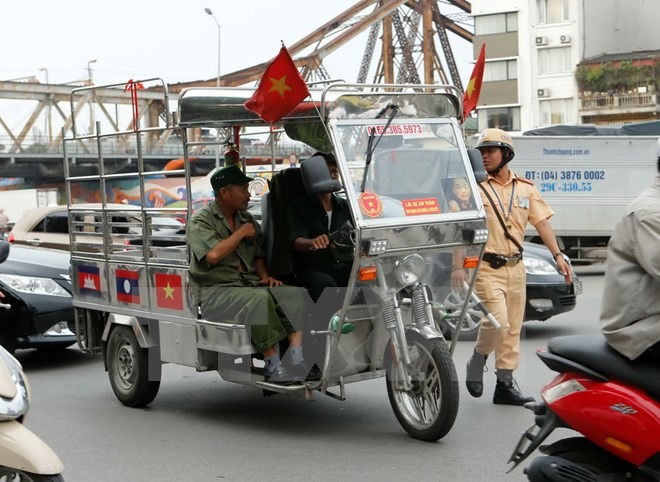 Police stop a three-wheeler for inspection.
The roadmap is divided into four periods, and aims to clear all sub-standard three-wheelers off city roads by the end of June 2018.
From now until the end of July, concerned authorities will review the number of three-wheelers operating in the city, identify vehicle owners, the average commute time and regular routes, as well as businesses producing, assembling and selling three-wheelers.
At the same time, authorised agencies will compensate and support war invalids, sick soldiers, and people with disabilities who have to use this type of vehicle to earn their living to find other jobs.
From August 1 to September 30, a dialogue will be held between authorised agencies and businesses that use three-wheelers for cargo transport to help enterprises replace these vehicles. Parking lots will be identified, where three-wheelers that violate rules will be seized and kept.
From October 1 to December 31, the department will study and report to the city authority on the difficulties faced in implementing the roadmap. It will also focus on finding jobs for war veterans and people with disabilities who use such three-wheelers. Authorities will also conduct inspections and seize vehicles violating the rules.
From January 2018 to June 30, 2018, motorised three-wheelers that do not have number plates but meet safety requirements can register with concerned agencies. However, these vehicles will not be allowed to carry more people or cargo than the number or the amount permitted.
Each war veteran will get permission to use one three-wheeler that has a clear production origin and meets technical standards. They will also have to medically qualify to drive it.
By the end of June 2018, all sub-standard, unregistered three-wheelers will be off the streets of the capital city.
The transport department has asked the city authority to allow it to complete regulations on the operation time and area for registered three-wheelers. It will work with the city police and Việt Nam Registration to inspect the quality and technical safety of these vehicles.
It will also work with the city police and the Department of Labour, Invalids and Social Affairs to revise the list of those using such vehicles, and identify and stop those who use fake number plates and run such vehicles for profit.
The department has requested the city authority to propose to the Government and the Ministry of Transport to re-examine and complete regulations on the management of such vehicles for transporting cargo.
VNS
Link
http://news.c10mt.com/search/label/vietnambreakingnews
and
http://news.c10mt.com
Links Topics :
http://news.c10mt.com/2017/07/hanoi-draws-up-plan-to-withdraw-sub.html