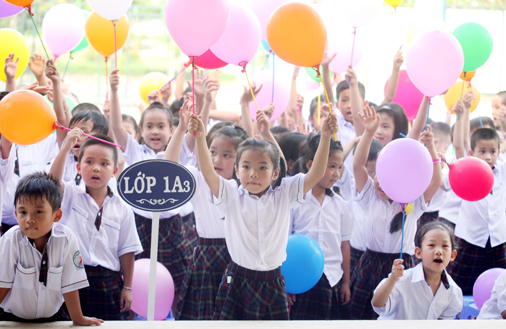 Concerns about severe school shortage have been raised as Hanoi is flooded with apartment building projects without new parks or schools.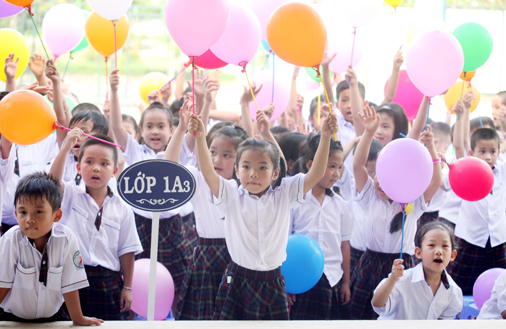 Rapid urbanisation leads to school shortage
Pham Thi Thu Huyen, vice chairman of Thanh Tri District, said the number of children in nursery schools increased by 6,600 and 500 pupils in primary schools, mostly in areas with new high-rise buildings.
Ta Thanh Oai Primary School has 12 classrooms for first graders. However, there are 913 children living in the commune. If all of them are enrolled in Ta Thanh Oai Primary School, each class will have 80 pupils. The local authorities have to direct pupils in some wards to other schools.
The authorities in Cau Giay and Long Bien districts have expanded classrooms and opened more schools in the past year, but they can't keep up with the rapid pace of urbanisation. The average number of pupils per class is above 50.
Meanwhile, Hoang Mai District authorities said their total of 65 nurseries, primary and secondary schools can't accommodate the annual growth rate of 6,000 to 8,000 pupils in the area.
Le Hong Vu, head of Tay Ho District Department of Education and Training, said the pressure had lessened as the school system was being completed. However, he is still worried about ongoing apartment projects.
"Our school system is basically completed but there are several apartment buildings being completed. Once the residents move in, they may cause school shortage. We are planning to expand the nurseries and build a new primary school in Thuy Khue Ward this year," he said.
This is the second year Hanoi allow both direct and online registration to ease overload at schools and make it more convenient for parents. For 2017-2018 school year, most schools basically met the goal to enrol 557,000 children to nursery school and 110,000 pupils to 6th grade.
Tran Luu Hoa, head of Hai Ba Trung District Department of Education and Training, said the plan was approved on May 15 and had been circulated among all parents. Even though the number of children in the area has been on the rise, they have been able to allocate them to 30 public nurseries.
Dtinews
Link
http://news.c10mt.com/search/label/vietnambreakingnews
and
http://news.c10mt.com
Links Topics :
http://news.c10mt.com/2017/07/hanoi-faces-school-shortage-in-new.html