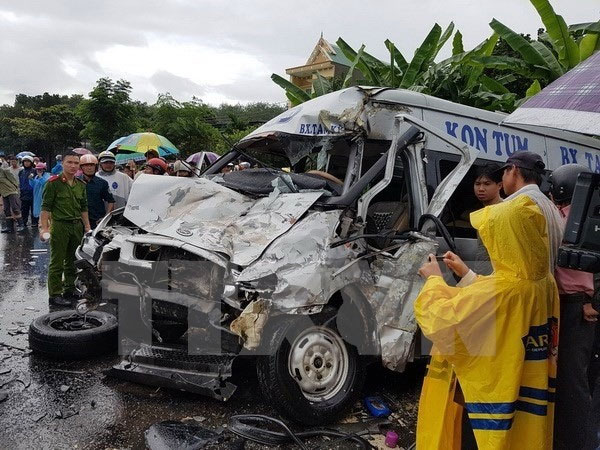 VietNamNet Bridge – More than 600 local and international traffic experts and policy-makers will participate in the 12th International Conference of the Eastern Asia Society for Transportation Studies (EASTS) to be held in HCM City and Binh Duong Province from September 18-21.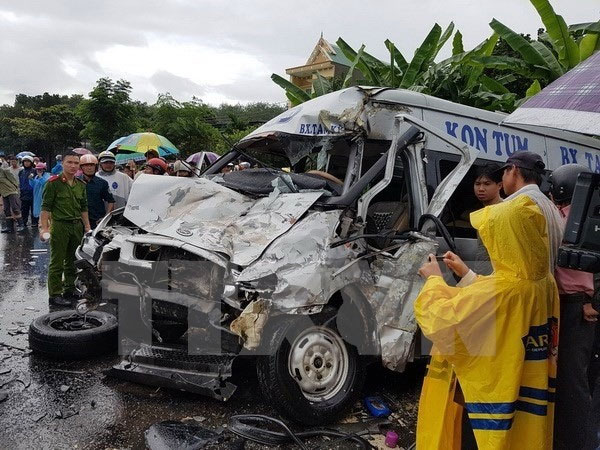 A recent traffic accident on the HCM Highway in the Central Highlands province of Kon Tum killed four people. – Photo: VNA/VNS
Speaking at a press conference in HCM City yesterday, Khuat Viet Hung, vice chairman of the National Committee for Road Safety, said that measures to address traffic problems among EASTS-member countries would be discussed.
Hung, who is also the head of the conference's organising committee, said the biennial event also aimed to promote transport research cooperation among EASTS-member countries.
This year, the National Committee for Road Safety plans to combine the EASTS conference and an annual traffic safety conference in the city and Binh Duong Province.
The conference in HCM City is themed "Vision and Action Programme for Safe, Green and Integrated Transport".
The conference will discuss management of personal vehicles, application of intelligent transport system (ITS), traffic safety for vulnerable commuters like motorbikes drivers and pedestrians, public transport development, and sustainable transport development to adapt to climate change, among others.
Meanwhile, the conference in Binh Duong will have the theme "Binh Duong: Vision of a Safe Transport System, a Smart City".
The conference will focus on various issues, including road safety management, responses after traffic accidents, railway safety and inland waterway safety.
Short-term and long-term solutions for sustainable transport development in the province will also be discussed.
Participants will take technical tours to the Underground Metro Construction Site (metro Line No. 1) in HCM City, including the Ben Thanh Market underground station and the Centre for an Intelligent Transport System at the HCMC–Trung Luong Highway, among others.
Hung said that traffic safety required solutions from a range of fields, including construction, engineering, health, education, communication, law-making and enforcement.
To ensure safety, rapid information collection and processing are needed before making decisions.
Scientific research and technological applications especially information technology, has become more urgent than ever.
"The conferences will help improve traffic situations in Viet Nam as an EASTS member state by sharing lessons learned and solutions with other member countries," he said.
EASTS seeks to foster and support excellence in transportation research and practice, and to stimulate professional exchange in all aspects and modes of transportation among the members.
EASTS was founded in 1994 as a result of a meeting held in Japan with experts in transportation from East Asian countries.
They included Viet Nam, Australia, Cambodia, China, Hong Kong, Indonesia, Japan, South Korea, Malaysia, Mongolia, Myanmar, Nepal, New Zealand, the Philippines, Singapore, Taiwan and Thailand, among others.
In 2001, under the sponsorship of the Ministry of Transport, the Viet Nam Road and Bridge Association organised the 4th EASTS conference in Ha Noi.
Ensuring sustainable traffic safety and order remains a big challenge in Viet Nam.
The country faces increased traffic congestion and accidents in large cities, overdevelopment of personal vehicles and high transport costs.
Nearly 9,600 traffic accidents resulting in 4,134 deaths and 8,000 injuries were reported in Viet Nam in the first half of this year, according to the National Committee for Road Safety.
As many as 33 traffic jams lasting more than 30 minutes were reported in the last six months nationwide, while 25 were reported in the same period last year.
VNS
Link
http://news.c10mt.com/search/label/vietnambreakingnews
and
http://news.c10mt.com
Links Topics :
http://news.c10mt.com/2017/07/hcm-city-to-host-intl-traffic-safety.html