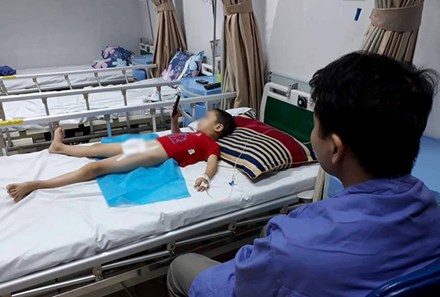 The families of 37 children, who have genital warts after undergoing circumcisions at an unlicensed clinic in Hung Yen Province, have sent a letter to the health minister of health.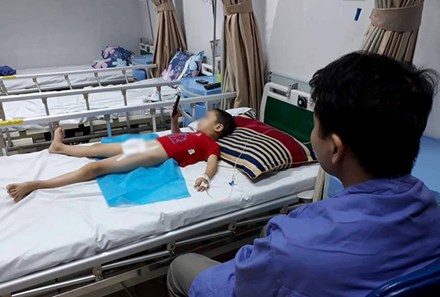 37 boys under 15 admitted to the National Hospital of Dermatology and Venereology
About 50 families signed a joint letter to the Minister of Health Nguyen Thi Kim Tien to call for help clarify the clinic's responsibility and punishment.
According to the parents, they wanted to hide their sons' illness at first for fear that their sons may have an inferiority complex and face prejudice from other people when they grow up. However, they want justice after the clinic refused to take responsibility.
Lawyer Nguyen Anh Thom agreed to help the families for free. "If it is proved that the boys were affected by the actions of the clinic then Hoang Thi Hien, the clinic's owner, will face criminal charges and must pay compensation for all hospital fees and stress and mental injuries," he said.
Last week, 37 boys under 15 were admitted to the National Hospital of Dermatology and Venereology in Hanoi for genital warts. All of them were circumcised at a clinic of Hoang Thi Hien in Khoai Chau District.
Doctors at the National Hospital of Dermatology and Venereology suspected that the sanitary condition at the clinic might not be good enough and left the boys with genital warts as their parents don't have the illness.
However, Hoang Thi Hien denied any responsibility and claimed that the boys have genital warts because their parents used low-quality diapers. She also refused to meet the parents, saying that she didn't know who they were.
Many parents said it pained them to isolate their sons from other kids and their own siblings.
Dang Nhat Minh, a parent, said, "After finding out that my two-year-old son has genital warts, we have to force him to stay and sleep in another room so that he won't infect his sister. They are only kids and just want to play with each other. It's really sad."
Dtinews
Link
http://news.c10mt.com/search/label/vietnambreakingnews
and
http://news.c10mt.com
Links Topics :
http://news.c10mt.com/2017/07/health-minister-lobbied-over-genital.html