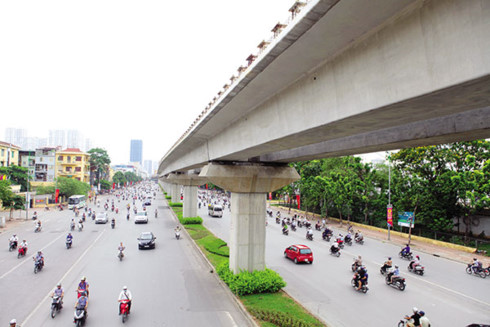 Domestic and foreign businesses are rushing to invest in infrastructure projects in Hanoi to cash in on the growing local demand.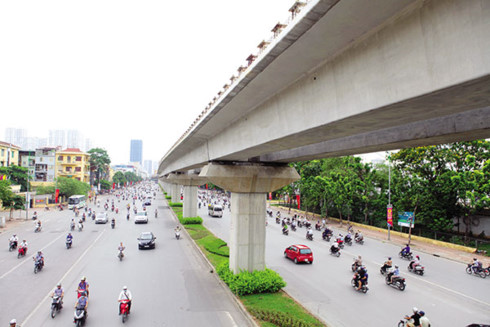 In late June, a number of companies got approval for their infrastructure projects at the "Hanoi 2017 – Investment and Development Co-operation" conference, reflecting the current trend in the field.
A joint venture (JV) between Aquaone and Duong River Surface Water JSC signed a memorandum of understanding (MoU) with Hanoi to develop a clean water supply system in the city with an estimated investment sum of VND5 trillion ($227.27 million).
The JV will have Maynilad, one of the leading water and wastewater services conglomerates in the Philippines, as a partner in these projects.
"Three years ago, we made investments in Ho Chi Minh City Infrastructure Investment JSC (CII)," Ramoncito S. Fernandez, CEO of Maynilad, told VIR. "Our group may invest in roads in Ho Chi Minh City. And I'm looking forward to investing in water and wastewater services in Hanoi.
"We are now in discussions with a group of businessmen in Hanoi. They are looking for potential partnerships in water treatment, water distribution, and eventually wastewater treatment to contribute to the environment in the city," he said.
According to Fernandez, the demand for water in Hanoi is significantly increasing with its fast-growing population. "The treatment of wastewater has become another urgent need. And investors like Maynilad are cashing in on the potential," he said.
At the same event, many domestic and foreign enterprises received approval for their investment plans in water supply and environment infrastructure, with a total estimated capital sum of VND8.87 trillion ($403.18 million).
In March, Duong River Surface Water JSC also kicked off Duong River Surface Water Plant in Gia Lam district, with the total investment of $225 million for phase one. Vietnam-Oman Investment (VOI) is a partner in this project.
In addition to this field, metro lines are gathering great interest among investors. Under the prime minister-approved transport development plan through 2030, with a vision towards 2050, Hanoi will build nine metro lines with a total length of 372.5 kilometres and an estimated total investment capital sum of VND700 trillion ($31.8 billion).
At the event, Vietnamese property conglomerate Vingroup signed an MoU with Hanoi to pour around VND100 trillion ($4.55 billion) into local metro line projects, becoming the first private domestic firm to join the field.
Vingroup proposed to invest in a number of metro routes. For Line 2 (South Thang Long-Tran Hung Dao), the company wants to join the Noi Bai-Nam Thang Long section, while for Line 3 (Nhon-Hanoi Station), it is eager to join the Hanoi Station-Hoang Mai and Nhon-Troi-Son Tay sections. The other routes that Vingroup is interested in are Van Cao-Beltway 4 and Beltway 4-Hoa Lac of Line 5; Noi Bai-Phu Dien-Hadong-Ngoc Hoi of Line 6; and Son Dong-Mai Dich and Mai Dich-Beltway 3-Duong Xa of Line 8.
Tokyo Metro is another corporation to join the trend. The firm also signed an MoU with Hanoi on management and solutions to increase investment efficiency in metro lines.
Many other firms got approval for their transport infrastructure projects, worth of over VND5.3 trillion ($240.9 million). These include projects from Van Phu Invest and Bitexco, worth $90 million each.
VIR
Link
http://news.c10mt.com/search/label/vietnambreakingnews
and
http://news.c10mt.com
Links Topics :
http://news.c10mt.com/2017/07/infrastructure-jvs-earn-nod-at-meet_21.html