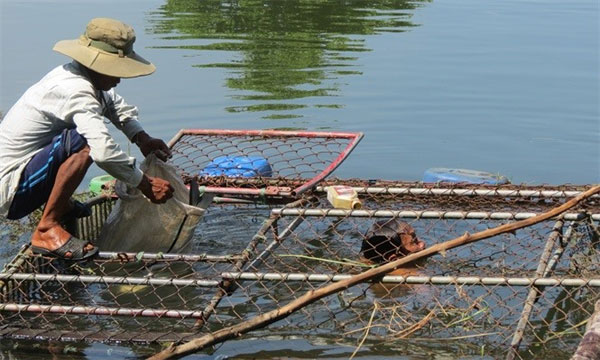 VietNamNet Bridge – Cage fishing farmers on the Bo River are distraught over an unexplained mass fish death that has caused great economic losses.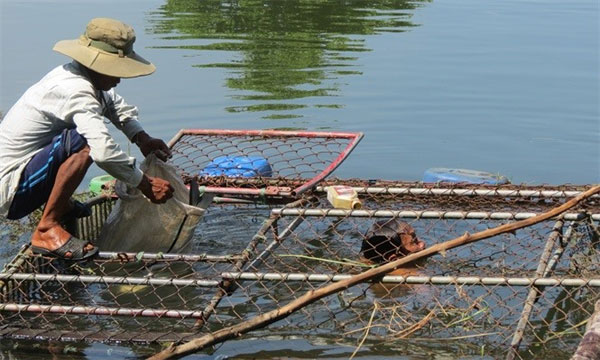 Breeders harvest dead fish to avoid pollution amidst a mass fish death on Bo River of central province Thua Thien – Hue. — Photo nongnghiep.vn
According to local residents, on Monday morning, silver carp and carp – each weighing 5-9kg and raised for 9-10 months – all died, white bellies floating up.
Nguyen Thi Ny, a farmer in Huong Xuan Ward, Huong Tra Town, said during her five years of cage fish farming, this has been the first time her family suffered losses of this scale, two cages with 300 fish all died out. Her entire family's livelihood has been "ruined."
"This morning, I have asked relatives to bring all the dead fish to the market and try to sell as fast as possible, for a meagre VND3,000 – 5,000 (US$0.13 – 0.22) a kilogramme, while normally, a kilogramme could easily fetch VND65,000 – 90,000 (U$2.9 – 3.9)," Ny said.
Shouldering the same worry, Duong Duc Huan, from the same ward, said his family also owns two cages. He lost 100 kilogrammes of fish, and was at a loss as to why this phenomenon occurred on the river.
Dozens of cage fish breeders on either sides of the Bo River in Huong Xuan Ward and other villages of Phuoc Yen, La Van Ha in Quang Tho Commune, Quang Dien District, are also "sitting on hot coal."
Ngo Quang Thao, Chairman of Huong Xuan Ward People's Committee, said the ward is still monitoring the situation, and by latest data, of 350 fish cages totalling 5 tonnes have died.
"According to some local residents, the mass fish death is due to lack of oxygen in the waters. We know that in the last two days, the river's section passing through the cage fish breeding areas was quite stagnant, but the chance of an outbreak is virtually impossible," Thao added.
The stagnant water is blamed on hydropower plants at the upstream area not releasing its water in the last few days.
Previously, also on the Bo River, a mass fish death occurred in April.
VNS
Link
http://news.c10mt.com/search/label/vietnambreakingnews
and
http://news.c10mt.com
Links Topics :
http://news.c10mt.com/2017/07/mass-fish-death-on-bo-river-of-thua.html