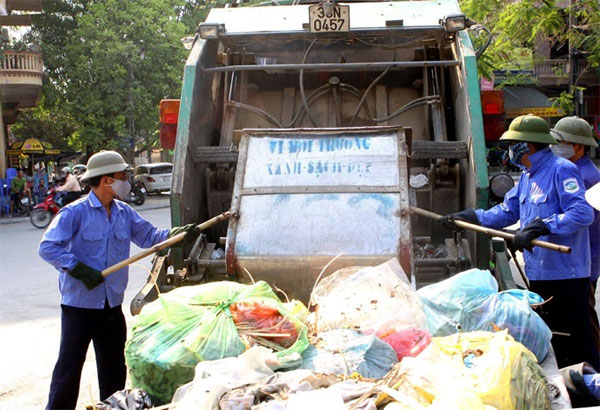 VietNamNet Bridge – Residents of Trung Son and Bac Son wards in the famous coastal city of Sam Son in the central province of Thanh Hoa are suffering insidious impacts of an overloaded waste dump.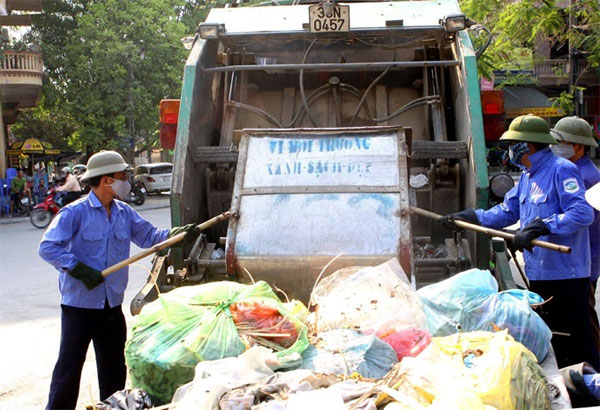 Sanitation workers of Thanh Hoa Environment and Urban Works Company Ltd collect waste from Le Hoan Street in Thanh Hoa City. — Photo: VNA/VNS
The landfill has badly affected their health, daily life and their livelihood, the residents say.
Cao Thien Quy, a resident of Khanh Tien Street in Trung Son Ward, said his family has lived there for over 20 years.
"Before the Sam Son dump was opened, we got a stable income from breeding fish in a 2ha pond. However, things changed after that."
The dumping site produces a bad odour and polluted the air and water sources, he said.
They could not breed fish because of water pollution and rice plants either died or failed to yield enough seeds for the next crop.
Nguyen Huu Dai, another resident, had a similar lament.
"We have to get water from other localities to raise ducks and cows to prevent them from getting diseases. We plant vegetables, but nobody dares to buy them."
Many families in the localities have to close their doors and windows to ward off mosquitoes. They even use mosquito nets while having dinner.
Dai said the number of people with respiratory diseases has increased over the past years.
If this situation continues, his family will have to move to another place, he added.
Cao Van Dai, a resident of Bac Son Ward, located about 100m away from the garbage dump, said "We don't care about ourselves. We are old but we worry about the future of the young ones."
His niece is just a year old, but suffers often from respiratory problems, he said.
Nguyen Huu Cuong, another resident, said he worries that the severe pollution might have negative effects on the city's tourism sector.
Trinh Tu Khoa, deputy chairman of Trung Son Ward's People's Committee, said local residents are suffering from "terrible pollution of air and water."
They were glad to hear in 2014 that the dump would be moved to another place. Then, local authorities said they would upgrade the dump to deal with pollution.
However, there has been no improvement since.
Pham Viet Linh, director of Sam Son Investment, Tourism and Environment Service JSC, admitted that the dump is overloaded.
His company has spent over VND4 billion (US$176,000) on deodorising chemicals, but, "the pollution can't be removed without closing the dump and transporting all the garbage to the Dong Nam Dump (another landfill in the province)."
The Sam Son garbage dump covering 2ha was opened in 1997. Every day, it receives over 150cu.m of waste.
Linh blamed the overloading on the fact that the number of tourists coming to Sam Son City has risen substantially, and expansion of the city with five communes being added to it.
Pham Van Tuan, vice chairman of the Sam Son People' Committee, said environmental pollution has been a big headache for local authorities for many years.
As much as VND26.3 billion ($1.1 million) has been invested in upgrading the Sam Son garbage dump, but the problem has not been solved completely, he said.
"It would costly if we transport all the garbage to the Dong Nam Dump. And the transportation could itself cause pollution," Tuan said.
He said the Sam Son Investment, Tourism and Environmente JSC has been asked to find a temporary solution to minimise pollution while waiting for a new dumping site.
Source: VNS
Link
http://news.c10mt.com/search/label/vietnambreakingnews
and
http://news.c10mt.com
Links Topics :
http://news.c10mt.com/2017/07/overloaded-landfill-dumps-misery-on-sam.html