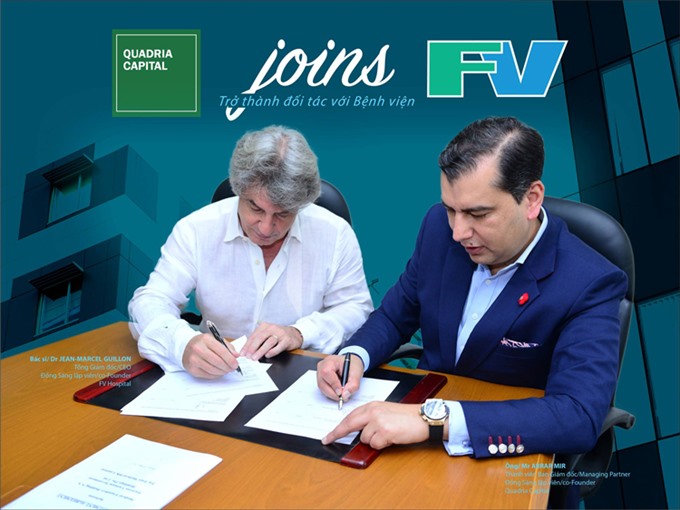 Quadria Capital, Asia's leading private healthcare investor, has successfully completed its investment in the Franco-Vietnamese Hospital (FV Hospital) in HCM City.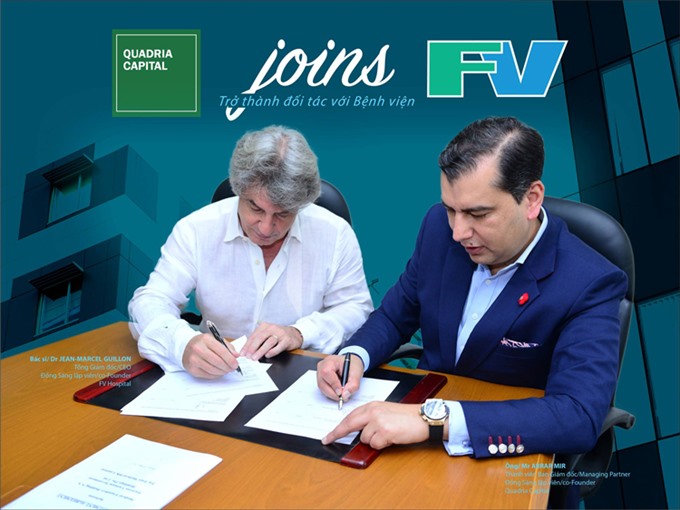 Dr Jean-Marcel Guillon, the FV Hospital's CEO (left), and Abrar Mir, Managing Partner and Co-Founder of Quadria Capital, at the signing ceremony on Tuesday.
This represents Quadria Capital's latest investment out of its third investment vehicle, Quadria Capital Fund L.P, and is the fund's third investment in Southeast Asia since 2015.
FV Hospital on Tuesday announced that the investment will be used to facilitate the establishment of centres of excellence for selected specialties and to provide access to advanced care and treatment in Viet Nam's central and southern region via an integrated network across the regions.
In December this year FV Hospital will open a general medical clinic in Can Gio so that patients there do not have to go to HCM City proper or Hanoi for diagnosis and treatment.
The hospital also intends to open eight to 10 general medical clinics in other cities and provinces in the next five years.
At a function held to announce the investment on July 11, Amit Verma, founder and managing partner of Quadria Capital, declined to reveal the amount invested in FV Hospital or the stake acquired by the fund.
But he said the fund usually invests US$40-100 million in a project and buys a 25-26 per cent stake.
In the next 6-12 months, FV Hospital will invest at least $10 million in the first phase of a plan to expand its scale and network.
Founded in 2012, Quadria Capital, which now claims the title as the largest health care focused private equity firm in Asia, has US$1.5 billion in assets under management and 18 investments across 7 countries in the Asia-Pacific region.
FV was founded by Dr Jean-Marcel Guillon in 2003 with a group of French physicians who shared the vision of bringing world class healthcare into Viet Nam. The only JCI-accredited hospital in South Vietnam, located in the burgeoning District 7 of HCM City, FV has evolved into a full-service, one-stop provider of quality care for the local population in and around HCM City. In addition to catering for the local Vietnamese population, FV also receives patients from neighbouring Cambodia, Laos and Myanmar.
Abrar Mir, managing partner and co-founder of Quadria Capital, said FV Hospital is well positioned to transform into a leading tertiary care provider in Việt Nam, which will help improve access to quality care and treatment in the country and the neighbouring region, a mission that is also integral to Quadria's investment philosophy.
"The Quadria partnership will enable FV to leverage Quadria's experience in growing hospitals across the region, as well as other synergistic opportunities via Quadria's portfolio and network," he said.
Jean-Marcel Guillon, founder of FV Hospital, also believed that Quadria, with its demonstrated track record in building some of the largest healthcare businesses in Asia, is the right partner for FV to embark on the next phase of its journey.
"A number of collaboration opportunities have been identified and we look forward to an exciting partnership with Quadria," he said.
Viet Nam is one of the fastest growing economies in Southeast Asia, with per capita income experiencing double-digit growth in recent years. Riding on demographic changes, including a rapidly expanding middle income class and higher incidence of life-style induced diseases, demand for healthcare is on the rise.
"In partnering with Quadria, FV seeks to continue capturing the increasing demand for advanced care and become the go-to hospital for the middle to high income population segment," FV Hospital noted.
VNS
Link
http://news.c10mt.com/search/label/vietnambreakingnews
and
http://news.c10mt.com
Links Topics :
http://news.c10mt.com/2017/07/quadria-successfully-acquires-stake-in.html