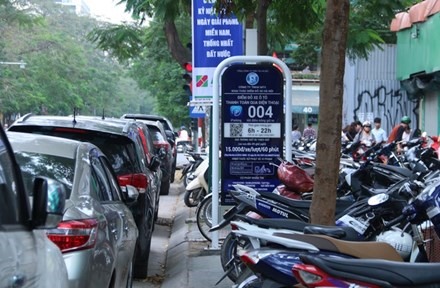 The iParking service, which makes it easier for drivers to find and pay for parking, will be rolled out to four central districts in Hanoi, namely Hoan Kiem, Hai Ba Trung, Dong Da and Ba Dinh, at the beginning of October.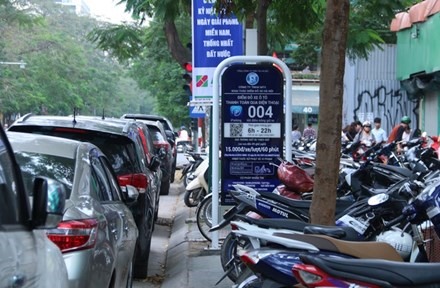 Drivers can use smartphones or tablets to find parking spaces in Hoan Kiem, Hai Ba Trung, Dong Da and Ba Dinh districts in Hanoi from October.
iParking has already been piloted on Hoan Kiem District's Ly Thuong Kiet and Tran Hung Dao streets since May 1.
The plan, developed and implemented by the Hanoi Parking Joint Stock Company, involves the digital mapping of car parking areas, the use of management software, and the installation of cameras to record vehicle registration plates in parking zones.
All information relating to car parks will be available online, and car owners will be able to find and book parking spaces in advance on devices such as smartphones and tablets.
Statistics from Hanoi Parking JSC showed that around 14,500 people have used the service so far and given positive feedback.
From May 1 to June 15, 56,000 transactions have taken place. Of these, 52,000 iParking users paid by SMS message and the rest paid by bank card.
Users of the technology said it helped reduce time spent finding a parking space and improved transparency in collecting parking fees.
Experts said the iParking app improved the efficiency of State management over traffic and vehicles in parking spaces, gradually modernising infrastructure and enhancing the quality of parking services in the city.
However, several shortcomings have been discovered. For example, a number of vehicles parked without paying, failed to pay the correct fees or overstayed their allotted time.
To limit the above-mentioned issues, the Hanoi Parking JSC proposed the People's Committee of Hà Nội to direct authorised agencies to impose punishments on any violations to avoid losses to the State budget and meet the car parking demand of local residents.
VNS
Link
http://news.c10mt.com/search/label/vietnambreakingnews
and
http://news.c10mt.com
Links Topics :
http://news.c10mt.com/2017/07/smart-parking-services-to-be-applied-in.html