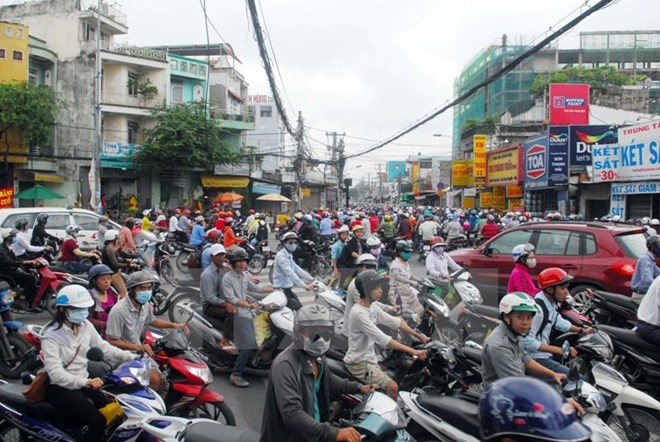 Prime Minister Nguyen Xuan Phuc has agreed the establishment of a steering committee to prevent traffic jams in Hanoi and Ho Chi Minh City.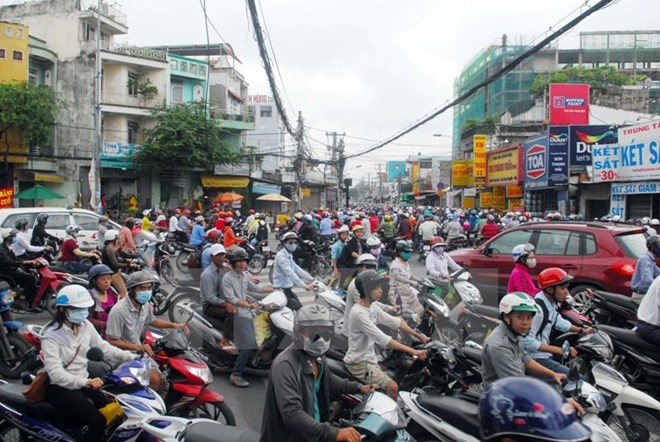 Steering committee for traffic jams prevention in Hanoi, HCM City
Congestion has become an urgent issue in the two major cities, requiring synchronous measures in planning, traffic, construction, healthcare, education and training as well as proposals for policies and mechanisms.
The Ministry of Planning and Investment was asked to establish the steering committee which will be led by the Prime Minister and include a Deputy PM, the Minister of Planning and Investment, the Chairmen of the Hanoi and HCM City People's Committees and members of relevant ministries and agencies.
Figures from Hanoi showed that about 20,000 motorbikes and 8,000 cars are newly registered every month.
It is estimated the city will have about one million cars and seven million motorbikes by 2020.
Chairman of the municipal People's Committee Nguyen Duc Chung said the city would work with the police and traffic inspectors would be stationed at hotspots to ensure smooth traffic flow. At least 500 policemen will be stationed at various locations in the inner city.
Meanwhile, in HCM City, traffic congestions occurs in many areas across the city, seriously affecting locals' daily activities.
In 2016, the city had 37 traffic jam hotspots, especially in roads to Tan Son Nhat International Airport, Cat Lai port, the city centre and routes from the outskirts to the inner city.
The city needs 38.3 trillion VND (nearly 1.7 billion USD) for urgent projects to reduce traffic jams in 2017, and about 323.9 trillion VND in 2016-2020.
VNA
Link
http://news.c10mt.com/search/label/vietnambreakingnews
and
http://news.c10mt.com
Links Topics :
http://news.c10mt.com/2017/07/steering-committee-for-traffic-jams.html