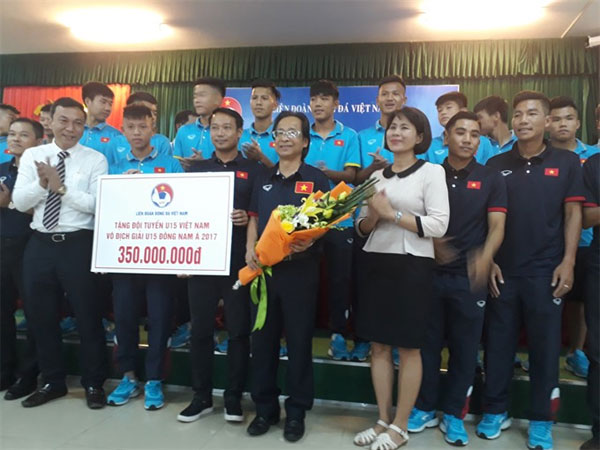 VietNamNet Bridge – The U15 and U22 teams received big bonuses from football managers following their outstanding performance at continental and regional tournaments.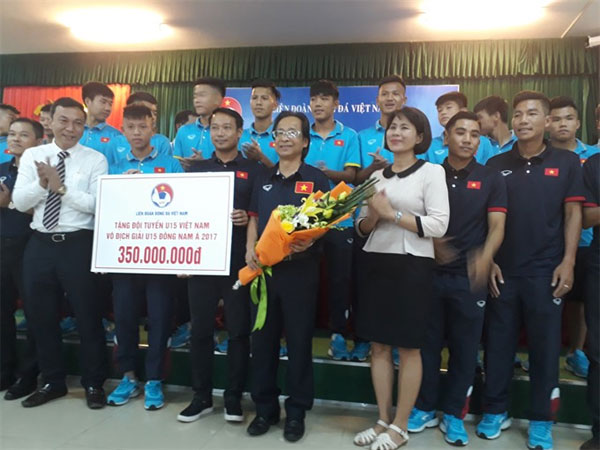 U15 players and coaches receive bonus from the Viet Nam Football Federation after winning their ASEAN title.
The U15 squad, which triumphed at the ASEAN Football Federation (AFF) Championship last Saturday, were awarded VND450 million (US$20,100) from the Viet Nam Football Federation and the Viet Nam Professional Football Company yesterday.
The team also received a congratulatory letter from Minister of Culture, Sports and Tourism Nguyen Ngoc Thien for defeating archrival Thailand 4-2 in the final match in a penalty shootout.
It is the first U15 tournament organised by the AFF and marks Viet Nam's first trophy in an outdoor football competition since 2008 when the country won the AFF Championship title.
Players returned to their local clubs today to prepare for the upcoming national championship. They will reconvene in mid-August to practice for the Asian U16 championship qualification in Mongolia in September.
Viet Nam are in Group I with Australia, Cambodia and the hosts.
The U22 side on Sunday were promised at least VND1.6 billion ($71,800) for securing a slot in the Asian Football Confederation U23 Championship final.
The team are one of the six best and were placed second in the group stage qualification round.
VFF leaders have decided to give the team VND600 million ($27,000), while VFF vice president Doan Nguyen Duc awarded them VND1 billion ($45,000).
Duc is also the boss of Hoang Anh Gia Lai FC, which contributed six players to the U22 team.
VNS
Link
http://news.c10mt.com/search/label/vietnambreakingnews
and
http://news.c10mt.com
Links Topics :
http://news.c10mt.com/2017/07/teams-enjoy-bonuses-following-recent.html