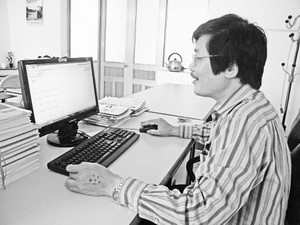 Concerns about losing Thai ethnic culture have motivated Ca Van Chung, Deputy Head of the Science and Technology Center in Son La province, to apply new technology in the preservation work.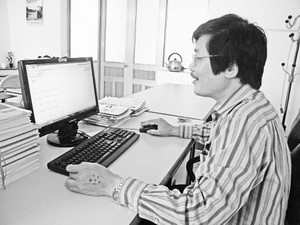 Ca Van Chung is passionate about the Thai culture.
The use of computers in teaching the Thai ethnic language, designing agricultural production schedules, and the digitization of Thai cultural products have so far proven effective.
Ca Van Chung was born and raised in Co Puc village, Son La city, which is entirely inhabited by the Thai minority people. In whichever job he undertakes, Chung has been dedicated to collecting cultural materials and preserving Thai traditions. He and other colleagues designed Thai font for computers, making it easier to teach and learn the language.
Ha Thi Thanh, a primary teacher at Muong Gion commune, said "Though Chung is old, he's passionate about teaching the language to younger generations. He loves the Thai ethnic culture".
Difficulties emerging from teaching and learning Thai in reality have pushed Chung to design an online teaching program. Chung told VOV "What makes it hard to learn Thai is the lack of teachers. The learners can listen to the spelling of words using my program. But not everyone here has a computer so I burned the program into CDs, which are now stored at the provincial Department of Science and technology".
The Thai people have their own calendar which their all activities rely on. Chung has carried out a project on the computerization of the calendar and digitized 200 Thai folk songs.
Chung said "I'm happy to contribute to the preservation and promotion of the Thai traditions. I hope more people, especially young people, will be involved in this effort. I think digitization is an effective way of preserving culture in the long run".
Chung's contributions to cultural preservation have been acknowledged by Son La authorities, the Vietnam National University in Hanoi, and the culture, sports, and tourism sector.
VOV5
Link
http://news.c10mt.com/search/label/vietnambreakingnews
and
http://news.c10mt.com
Links Topics :
http://news.c10mt.com/2017/07/technology-helps-preserve-thai-ethnic_16.html