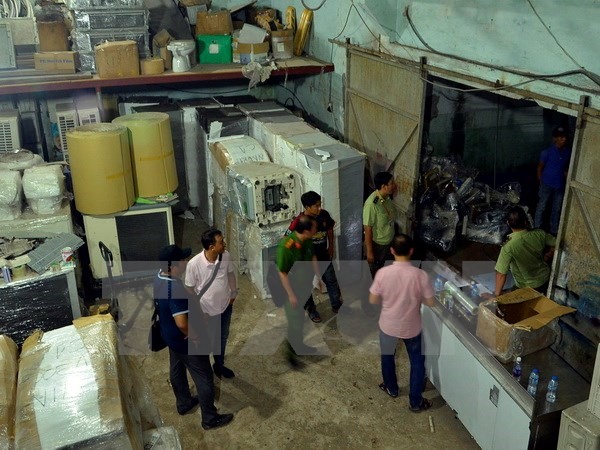 Viet Nam's regulations on the standard and condition of foreign equipment, facilities and technological lines to be imported to the country are facing objections from foreign enterprises.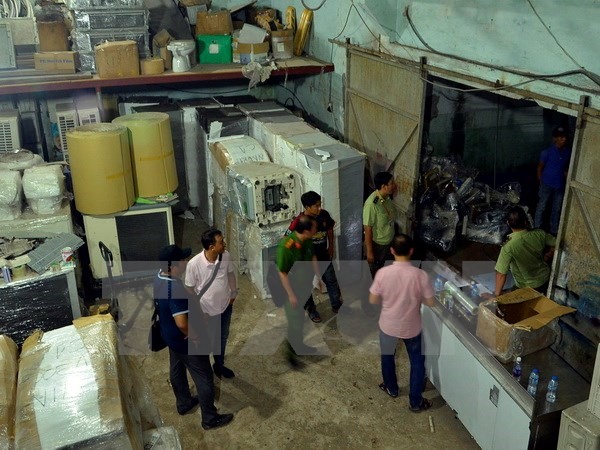 Police officers inspect a warehouse that stores illegally imported electronic parts.
A number of enterprises and associations have requested the Prime Minister to loosen up regulations on the matter, which were stated in Circular 23, issued by the Ministry of Science and Technology (MoST) in November 2015, according to Đỗ Hoài Nam, director of MoST's department of technology appraisal, examination and assessment.
These associations, especially the Japanese Association in Việt Nam, said that the strict regulations are preventing new foreign investments from coming to Việt Nam, such as a new wave of Japanese enterprises planning to move their entire factories to the country, Nam said.
"The problem is whether those factories – after being dismantled, moved, and re-assembled in Việt Nam – can operate as well as before," Nam said during a press conference on Thursday.
"If they can, they will bring about some immediate benefits. But if the equipment brought to Việt Nam through this investment wave is unsafe and outdated, it will waste energy, cause environmental pollution and affect the next generation," he said.
Circular 23, which took effect in July 2016, is the first Government document to regulate the standards and conditions of foreign equipment and facilities imported to Việt Nam, which helps limit the amount of outdated, low-quality equipment and facilities imported to the country.
Nam introduced new content in the revised Law on Technology Transfer approved on June 19. The law and relevant laws and decrees are hoped to contribute to strongly boosting technology transfer activities in the future, he said.
Technology transfer
Measures to help Việt Nam solve challenges in applying foreign technologies in domestic production and build relevant policies were discussed at a workshop in Hà Nội on Thursday.
Tạ Việt Dũng, director of MoST's State Agency for Technology Innovation (SATI), mentioned the fact that technology transfer in Việt Nam is yet to achieve desired results, reflected by the limited application of study findings in reality and the small number of technology transfer contracts.
Enterprises have not paid due attention to investing in research and technology transfer activities, he said, underlining the responsibility of management agencies for establishing a legal foundation to support technology transfer, thus promoting the process in the coming years.
Technology development in Việt Nam should go in the direction of "make one, get one", according to representatives from the Asia-Pacific Centre for Technology Transfer (APCTT).
It means that apart from trying to develop new technologies, Việt Nam should also take advantage of those already developed by other countries, it said.
VNS
Link
http://news.c10mt.com/search/label/vietnambreakingnews
and
http://news.c10mt.com
Links Topics :
http://news.c10mt.com/2017/07/vn-stands-firm-against-outdated-foreign.html