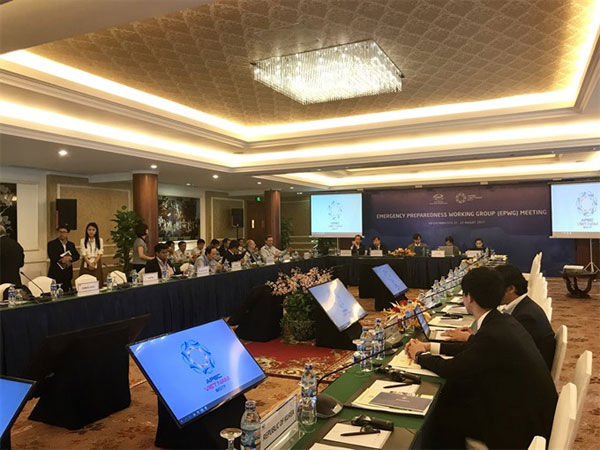 VietNamNet Bridge – Disaster recovery in APEC economies is as important as disaster preparation and response, the co-chair of the APEC Emergency Preparedness Working Group (EPWG), Le Quang Tuan, said yesterday.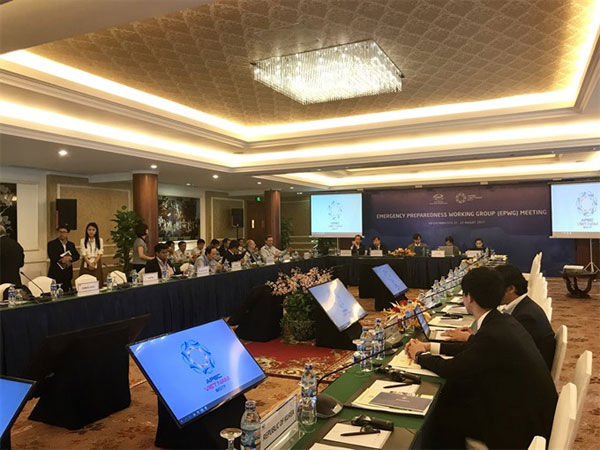 Delegates from 21 APEC-member economies and non-APEC organisations met at the 12th meeting of the APEC Emergency Preparedness Working Group (EPWG) on Monday (August 21) in HCM City. – VNS Photo
During the 12th meeting of the working group, more than 100 delegates from 21 APEC-member economies and non-APEC organisations exchanged information about coping with natural disasters.
The meeting was held in HCM City within the framework of the third Senior Officials Meeting (SOM 3).
Though Viet Nam has experience in coping with natural disasters, it lacks experience in providing support to affected areas after disasters, according to Tuan.
"This meeting provides a great chance for Viet Nam to learn from other countries," he added.
Members of the working group discussed potential disaster-recovery projects that APEC-member economies could benefit from in the future.
"Viet Nam has been collaborating with Japan, the US, Chinese Taipei, Philippines and Malaysia on a 'build back better' project," Tuan said, adding that Chinese Taipei has proposed a 'Plant Back Better', an initiative to help affected vegetable plantations after disasters.
A handbook on best practices to cope with natural disasters has been compiled by Viet Nam and Japan with several other member economies, and will be completed by the end of this year, according to Tuan.
Also speaking at the meeting, Tran Quang Hoai, director general of the Directorate of Natural Disaster Prevent and Control, briefed participants on recent disasters that have occurred in Viet Nam.
"Every year, more than 300 people die from disasters in Viet Nam, with a capital loss of US$1 billion," he said.
As of August, 100 people had died this year, with estimated losses of more than $300 million.
"The most recent event saw heavy rains, serious flooding and landslides in northwestern Viet Nam, marking it as the historic event of the year thus far," he said.
Emergency response
To better respond to emergencies, Viet Nam has formed the Viet Nam Disaster Management Authority under the Central Steering Committee for Natural Disaster Prevention and Control.
"This new organisation will take on an active role in tackling more than 19 types of existing and emerging natural disasters, including the 'new-normal' or new norms of natural disasters," Tuan said.
Hoai stressed the importance of regional connectivity as the APEC region has encountered multiple types of disasters with increasing frequency and severity.
"Disasters such as droughts, storms, landslides and others have brought about serious disruptions to business and trade in the Asia-Pacific region, and has affected the well-being of residents," he added.
In addition to reviewing the 11th meeting of the working group, held in Nha Trang in Khanh Hoa Province earlier this year, the 12th meeting discussed key themes for the 11th Senior Disaster Management Officials Forum to be held in Vinh City in Nghe An Province in September.
Other topics discussed by the working group this week include: rural disaster resilience through effective infrastructure investment; review of inter-sessional work, project implementation and proposals undertaken in member economies since the last working group meeting; and updates on cross-fora reports and outreach collaborations.
The meeting will resume today, with focus on proposed projects for 2018, with Viet Nam presenting a national research project on developing disaster safety criteria at the commune level, with the aim of creating a new rural development model to be applied throughout Viet Nam.
The Emergency Preparedness Working Group was first set up as the APEC Task Force for Emergency Preparedness (TEFP) in 2005.
It is currently co-chaired by Vietnamese and Japanese representatives.
Source: VNS
Link
http://news.c10mt.com/search/label/vietnambreakingnews
and
http://news.c10mt.com
Links Topics :
http://news.c10mt.com/2017/08/better-disaster-recovery-efforts-needed.html