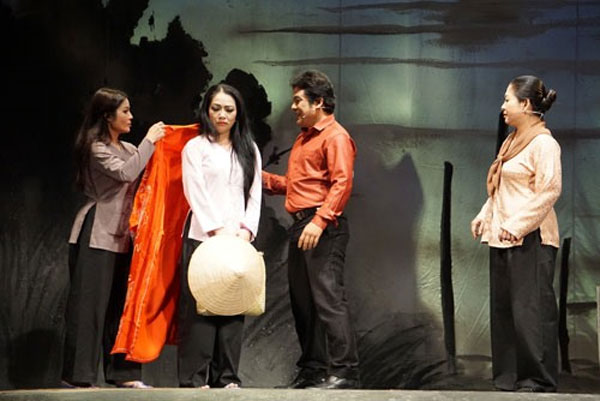 VietNamNet Bridge – HCM City art troupes and cultural centres will offer several shows to celebrate the annual Buddhist holiday of Vu Lan, an event that eulogises motherly love, held annually in the seventh month of the lunar calendar.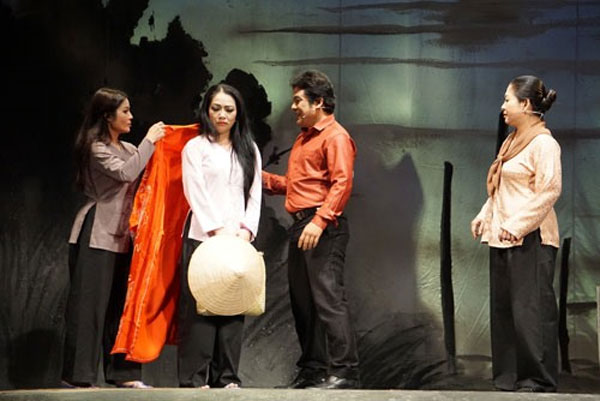 Young and respectful: Cai luong artists of HCM City will perform for free during Vu Lan, the annual Buddhist event that eulogises motherly love, held in the seventh month of the lunar calendar. —Photo.dienanh&sankhau.vn
Most of the shows will begin this weekend and continue until the mid-September.
District 9's Suoi Tien Tourist Park will launch a programme called Vu Lan Bao Hieu (Showing Gratitude in Vu Lan) featuring culinary parties and stage plays that highlight people's gratitude to and appreciation of their mothers.
Cai luong (reformed theatre) stars like Vo Minh Luan and Huong Xuan of Tran Huu Trang Theatre will perform for free on the occasion to encourage young people to love and respect their mothers.
The programme will begin tomorrow and run through the day of Vu Lan, September 5. It is expected to attract more than 40,000 visitors, including several hundred Buddhists, from the city and neighbouring provinces.
Dozen of young actors will visit the Artists Pagoda and Nhat Quang Tu (Sunlight Pagoda) in Go Vap District on August 26 to participate in a special show celebrating Vu Lan.
They will stage a series of extracts from popular plays featuring historic events and heroines, such as Thai Hau Duong Van Nga (Queen Duong Van Nga) and Trung Nu Vuong (Trung Sisters).
The artists will show their deep respect for veteran actresses, such as Phung Ha and Thanh Nga, who are great symbols of cai luong, a traditional art of South Viet Nam.
They will also offer donations to the pagoda, the only one of its kind in the region that contains a cemetery devoted to cai luong and tuong (classical drama) performers.
The Sai Gon Drama Theatre will stage a new play featuring mother's love during the festival season. Directed by People's Artist Tran Ngoc Giau, the play, Bong Hong Trang (White Rose), is about a poor mother who makes sacrifices for her daughter.
It also features the law of cause and effect, and how this influences all areas of life.
"Vu Lan is a time for people, especially youth, to look back and remember their mother's love and sacrifices," the play's director Giau said.
"We're not looking to make profits from our art, but merely hope to encourage young people to love and respect their mothers."
Bong Hong Trang will be staged at 8pm every Friday, Saturday and Sunday night at 130 Cao Thang Street in District 3.
Source: VNS
Link
http://news.c10mt.com/search/label/vietnambreakingnews
and
http://news.c10mt.com
Links Topics :
http://news.c10mt.com/2017/08/buddhist-festival-to-extol-motherly-love.html