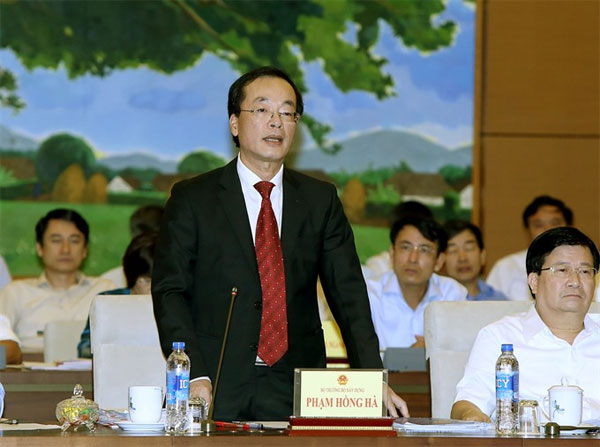 VietNamNet Bridge – The National Assembly's Standing Committee yesterday held a session with questions for Minister of Construction Tran Hong Ha on several issues, including state management of planning and supervision of the use of urban land in harmony with traffic development.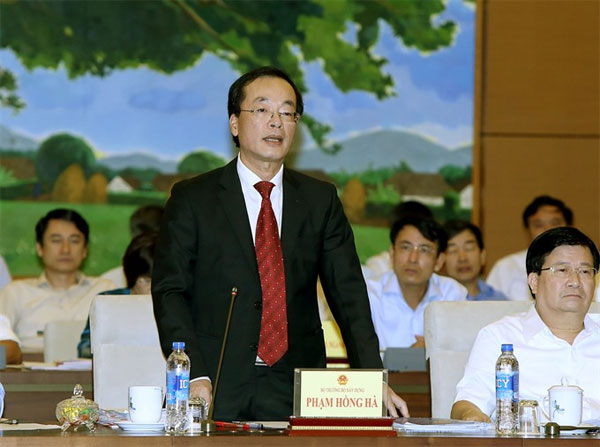 Minister of Construction Pham Hong Ha answers inquiries regarding urban planning posed by National Assembly deputies during a session held yesterday by the National Assembly's Standing Committee. — Photo: VNA/VNS
The first deputies to grill the minister bemoaned "a lack of vision" in urban planning, leading to inadequate waste treatment and a serious shortage of open space for recreation – issues deputies said could be witnessed in all big cities.
Minister Ha admitted the quality of planning has been suffering from a lack of coherence amongst different sectors. The blame, according to the construction minister, can be put on state agencies who "fail to perform their duties," don't observe transparency regulations and conduct improper inspections.
"Can the minister answer whether official planning is leaked to certain parties so they can benefit from this advance knowledge?" Nguyen Thi Kim Thuy, a Da Nang City deputy, asked the minister.
The minister said that "basically it's a non-issue, but in some specific cases, 'group interests' do indeed occur."
Nguyen Thanh Thuy, deputy from the southern province of Hau Giang, grilled the construction minister over illegal construction, encroachment into public-use land, agricultural land, or even land reserved for defence and security purposes.
Ha admitted that these phenomena will not go away soon, as they require close collaboration between sectors, agencies, central and local level and that in the future, ministry's inspectors will investigate projects that use large amounts of land.
Regarding infringements of planning occurring in some new urban areas, Nguyen Duc Chung, Chairman of Ha Noi People's Committee, attributed the faults to investors who violated building heights or construction density.
According to a Ha Noi authorities' report, in 2015, there were more than 300 cases of 'super-thin' constructions deemed an eyesore. Most have been handled and the figure has dropped to 132.
Ha Noi Chairman said that every land plot below 30sq.m will be bought back by the government, or in cases where neighbouring households can reach an agreement to merge their small land plots together, the city will provide "support, aiming to eradicated super-thin houses.
Government response
Speaking at the session, Deputy Minister Trinh Dinh Dung stated that urban development is "extensive" but lacks depth. Dung also criticised the fact that while social housing is in huge demand, investment into this field has been lacking.
In the future, the government will focus on revising and consolidating laws on urban planning and urban development management.
Deputy PM also pledged to "facilitate the development of satellite urban areas in adjacent to big cities, especially Ha Noi and HCM City," aiming to ease population pressures on cities.
Source: VNS
Link
http://news.c10mt.com/search/label/vietnambreakingnews
and
http://news.c10mt.com
Links Topics :
http://news.c10mt.com/2017/08/construction-minister-grilled-over.html