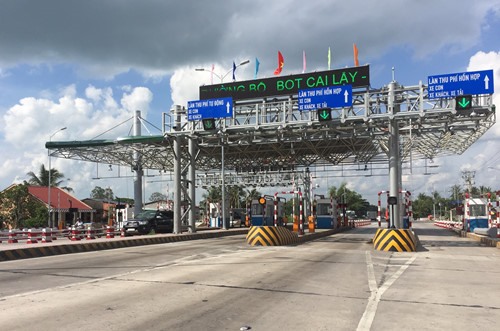 In what has become a regrettably familiar scenario in the country, authorities have responded belatedly to angry protests by reducing and canceling toll at yet another booth, this time in the Mekong Delta Province of Tien Giang.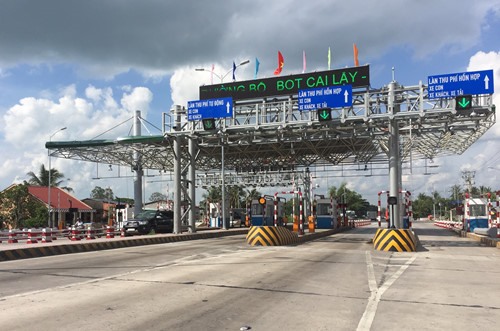 The Cai Lậy toll booth opened two weeks ago with fees set at VNĐ35,000 ($1.5) to VNĐ180,000 ($7.8), depending on the type of vehicle.
The Cai Lậy toll booth opened two weeks ago with fees set at VNĐ35,000 ($1.5) to VNĐ180,000 ($7.8), depending on the type of vehicle.
For a two-lane road running just 12km, the rates were palpably high, and they evoked very angry protests. Consider that a 40km stretch on the Trung Lương-HCM City Highway with six lanes only costs VNĐ40,000 ($1.7).
Others pointed out that the location of the toll booth on National Highway No.1 to recoup investment on a 12km alternative route was not appropriate.
Drivers using the road protested by using small currency notes crumpled or soaked in water. The notes were also put in bottles. It took a lot of time for toll collectors to count the cash.
Before the Transport Ministry intervened with price adjustments, the investor, Highway 1 Tiền Giang Investment Co Ltd, had to let vehicles go through for free from the evening of August 13.
Under yesterday's intervention, the new fee range, applied from August 21, will be VNĐ25,000 (US$1.1) to VNĐ140,000 ($6.1). The Transport Ministry also said that the toll will be halved or completely removed for vehicle owners living in four nearby communes.
The high toll fees were hurting residents in the booth's neighbourhood.
Four months ago, residents living around the Bến Thủy Bridge in Nghệ An and Hà Tĩnh provinces drove hundreds of vehicles covered with banners to protest inappropriate toll fees. They were enraged that they had to pay toll even if they were not using an inch of the BOT road. Reacting to local outrage, the Transport Ministry had to slash the toll by half at Bến Thủy 1 and 2 booths.
People in other localities have also encountered similar problems. In some cases, enterprises upgraded the road to collect fees with residents having no choice in the matter. Some residents were even forced to go through a road on which a BOT toll booth was located in order to improve collections.
The situation has become serious enough to draw attention and discussion at a heated monthly meeting of National Assembly (NA)'s Standing Committees this week.
The meeting identified several inappropriate projects and called for a serious and full-scale review over the efficiency and transparency of these projects.
Error after error
NA deputy chairman Đỗ Bá Tỵ called the protests over Cai Lậy booth "a sad story." He said the two main problems with BOT projects were the distance between booths and high tolls.
The Transport Ministry has decreed a distance of at least 70km between two booths. However, according to report on BOT transport projects commissioned by the NA Standing Committee, only nine of 88 booths, a merer 10 per cent, are located correctly under this rule.
Drivers on the 40km Hà Nội-Thái Bình Highway have to stop four times to pay toll. A survey done by the Hà Nội Transport Association shows that the cost of petrol consumed during the travel is much less than the toll charged.
And if this weren't ridiculous enough, the record for distances is 150 metres on 39B road in Thái Bình Province.
There is considerable opacity on how the tolls are fixed, making citizens even more angry.
According to circular 159/2013, the Finance Ministry can only provide a framework for tolls to be charged. It cannot specify how much each booth can charge. The rule is that the fee is proposed by the investor based on an estimate of traffic density and other aspects.
However, in the case of Cai Lậy, the investor said the fees were based on an agreement between the Transport Ministry and Financial Ministry. The investor further said it did not have the right to interfere in the fee price determination.
False estimation of traffic density, sometimes based on just three days' counting but applied for a three-year term, has hiked fees beyond reasonable or rational levels.
Head of the NA Ombudsman Committee, Nguyễn Thanh Hải, highlighted another problem. At the Pháp Vân-Cầu Giẽ toll booth in Ninh Bình Province, the collection was VNĐ1.97 billion ($85,600) per day, but the concerned company only reported VNĐ1.2billion ($52,100).
This is highway robbery.
Adding salt to injury, besides short distances and high tolls, drivers have to suffer degrading road quality. Many key transport projects have reportedly developed cracks and become unusable soon after opening to traffic.
A newly-released reported on BOT projects by the Việt Nam State Audit Agency points out several problems including appointing investors without bidding process.
Long term impacts
The high toll that drivers have to bear are nothing compared to the long-lasting consequences that deteriorating BOT projects will impose on the whole system.
After the protests, what?
To bypass the Cai Lậy booth, drivers in Tiền Giang Province began choosing alternative district-level routes not designed for heavy traffic loads. This would exert greater pressure on local transport infrastructure, damaging it.
Instead of responding to problems with BOT projects as and when they arise, authorities need to anticipate and avoid them. Then, they need to supervise such projects far more effectively than they have been dong so far.
Resident who use BOT projects fairly often expect them to be participatory affairs with total financial transparency that precludes corruption. Citizens should have the right to provide feedback on the projects' location as well as service quality and submit it to authorized agencies for further supervision and examination. Authorities should also seriously listen to residents' proposals.
Higher up the governance ladder, the parliament and ministries should strictly supervise the process from project formulation and approval, selecting investors and contractors, estimation of traffic flow to determine tolls, as well as location of toll booths.
In the final analysis, it is much more important to regain and keep public trust with long-term measures than tying to fix problems with short-term solutions like reducing or waiving fees in a very clumsy manner.
VNS
Link
http://news.c10mt.com/search/label/vietnambreakingnews
and
http://news.c10mt.com
Links Topics :
http://news.c10mt.com/2017/08/for-whom-do-bot-bells-toll-in-vietnam.html