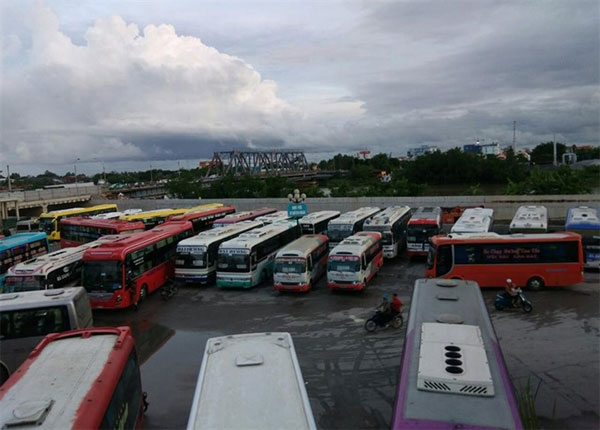 VietNamNet Bridge – The northern port city of Hai Phong's Department of Transport has planned to gather hundred of coaches at one station, which has met with opposition from the owners of the vehicles.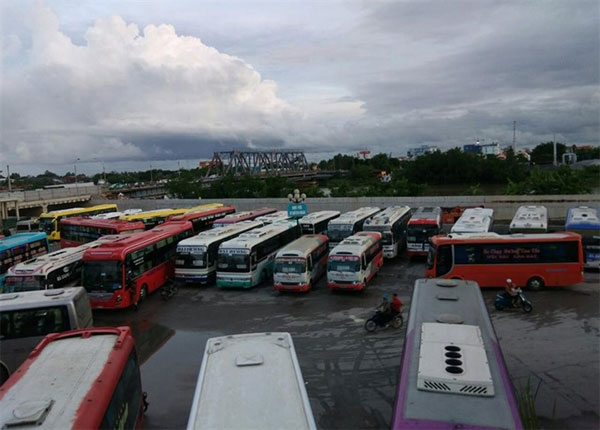 Coaches at the Cau Rao Bus Station in the northern port city of Hai Phong. — Photo: VNN
The department recently proposed to the city's People's Committee to transfer 144 inter-provincial coaches that were operating at Cau Rao, Niem Nghia and Lac Long stations to Thuong Ly Bus Station in the inner district of Hong Bang.
The large number of coaches coming in and out of these three stations has worsened traffic and caused traffic jams in the city's central areas during peak hours, according to the department.
The stations and coach operating companies whose vehicles are running from the central province of Nghe An to the southern region have objected to the proposal, the Vietnamnet online newspaper reported.
Tran Manh Hung, vice director of the Truong Anh Petroleum JSC – owner of the Quoc Tuan coach operator whose coaches are parked at the Cau Rao Bus Station, said he did not agree with the department's proposal since his buses were not running through the city's centre.
"After leaving the station, our coaches immediately reach National Route 5, then National Route 10, and then National Route 1," he said. "We operate during off-peak hours between 8pm and 5am of the next day, so it cannot be said that we are causing traffic congestion."
Hung said his company has invested some VND35 billion (US$1.5 million) on nine coaches with beds, which have been parked at the Cau Rao Station for years.
"Transferring to another station would put us at risk of having to sell the coaches and not being able to pay off our debts of billions of dong," he said.
Tran Van Sang, representative of the Thanh Sang operator, said that the proposal to move the buses out of the Cau Rao Station is "abnormal and unreasonable".
"The station is located near several colleges, universities, residential areas, ports and industrials parks, which gather lots of people from the central and southern regions, who come here to study and work," he said.
Do Van Toan, head of the Cau Rao Station, said transferring the buses to the Thuong Ly Station would be "taking a backward step".
"It's not a coincidence that all coach operators chose to park at the Cau Rao Station," he said. "It is to reduce distance and cut travel costs for traffic participants."
"If the proposal is approved, citizens will have to use personal vehicles and take taxis or xe om to get to this new station, which will cause even more traffic congestion in the city," he said.
The 11,000sq.m Thuong Ly Bus Station was launched in May last year. It has not been favoured by coach operators and is struggling with 77 bus rides per day.
VNS
Link
http://news.c10mt.com/search/label/vietnambreakingnews
and
http://news.c10mt.com
Links Topics :
http://news.c10mt.com/2017/08/hai-phong-bus-operators-object-to.html