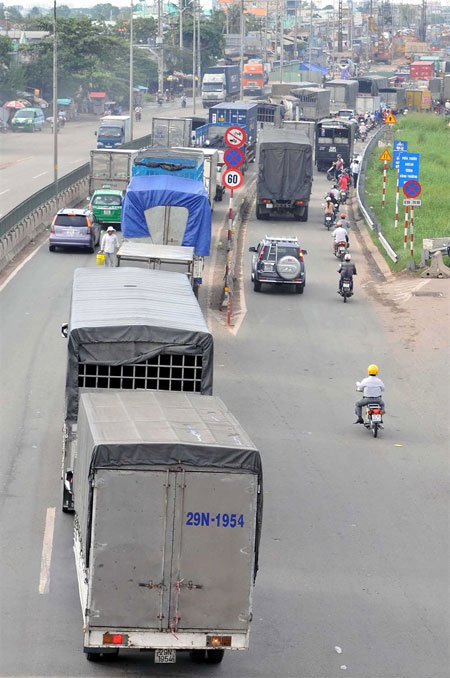 VietNamNet Bridge – With HCM City authorities considering an increase in the number of hours that mini trucks are banned in the inner city, businesses are worried about its fallout.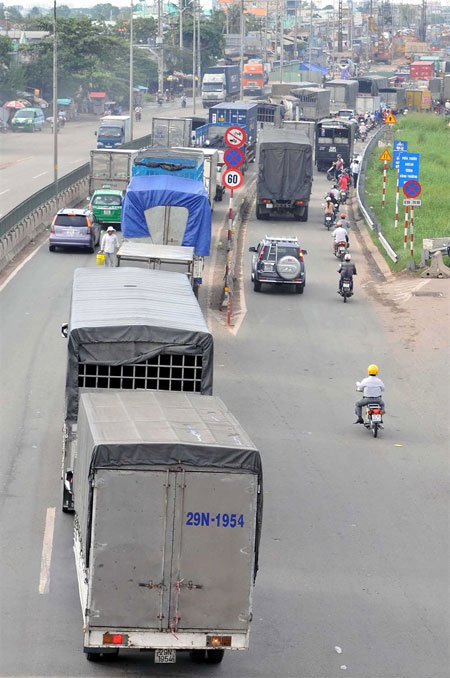 Mini-trucks run from National Highway No1 A to HCM City's An Suong Intersection. The city is considering banning mini trucks from 6am to 8pm which is said to negatively affect the delivery of goods every day from producers to small production units, restaurants and shops in the city. — Photo: VNA/VNS
At a meeting at the beginning of this month to discuss the transportation situation in the first half of this year, the chairman of the city People's Committee, Nguyen Thanh Phong, urged the Department of Transport to consider banning mini trucks from 6am to 8pm.
Since last March they have been banned from 6am to 8am and 4pm to 8pm, but according to the police, at other hours they come into the city and cause severe traffic jams.
The city has around 210,000 trucks.
Soon after news about the meeting was published in the media, enterprises reacted strongly, with most saying the longer ban would hit them severely since they supply goods every day to many small production units, restaurants and shops.
Phu Nu (Women) newspaper quoted Kao Sieu Luc, director of ABC Bakery, as saying that the biggest challenge his company faces now is delivery since mini-trucks are banned during certain hours.
His company used to use mini trucks to supply its buyers, but now has to rely on pick-ups, directors' cars, and bikes.
But his products need to be stored at under -5 degrees C.
As a result his company has had to temporarily refuse some orders, while all orders for conferences at 7-8am and 5-8am have been cancelled.
He said the reports that the city would expand the mini-truck ban were worrisome and would surely affect his company.
For businesses producing vegetables and vegetable-based products, the problem is worse because these products have to be transported the same day.
Truong Van Bao, director of the Viet Agriculture Technology Company, said after the city banned mini trucks in the morning and afternoon his company's orders fell by 20 per cent because they were unable to provide products to kindergartens in the mornings and restaurants in the afternoons.
The company has three mini trucks that can each deliver products to seven or eight customers. Due to the ban it had to buy seven motorbikes.
Nguyen Quoc Hoan, general director of Pan Food Manufacturing Joint Stock Company, said HCM City has many small shops and it is a reasonable demand to allow mini trucks to deliver goods to them.
The city should carefully consider the ban hours, he said.
Bui Xuan Cuong, director of the Department of Transport, said the issue would be carefully studied.
The ban would not apply to the whole city but only to certain main streets where traffic jams occur regularly.
VNS
Link
http://news.c10mt.com/search/label/vietnambreakingnews
and
http://news.c10mt.com
Links Topics :
http://news.c10mt.com/2017/08/hcm-city-firms-fear-plan-to-extend-mini.html