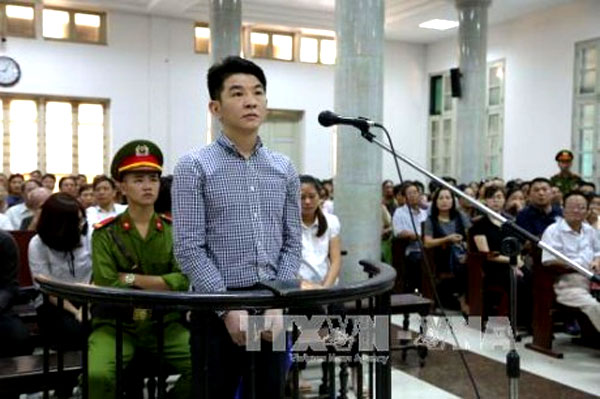 VietNamNet Bridge – Ha Noi People's Court yesterday opened legal proceedings against a criminal case regarding an illegal virtual gold trading floor. The case involves top managers of the Ha Noi-based Khai Thai Consultant Limited Company (KTIC).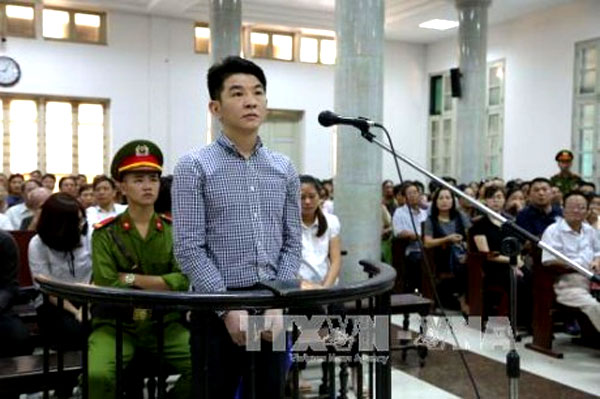 Hsu Ming Jung at the court hearing. – Photo: VNA/VNS
KTIC General Director Hsu Ming Jung (also called Saga) from Taiwan and his six Vietnamese accomplices will be tried on charges of swindling VND264 billion (US$11.7 million) from more than 700 investors.
Hsu Ming Jung, 42; Doan Thi Luyen, 30, managing director of the company; Nguyen Manh Linh, 30, a director of the company; and Trinh Hoang Binh, 42, the company's chief accountant, will be charged with fraud pursuant to Article 139 of the Penal Code.
Two other Vietnamese people, the managing directors of the company's branches at the Plaschem Building in Ha Noi, Dinh Thi Hong Vinh, and at the Lotte Building in Ha Noi, Tang Hai Nam, will also be charged with the same offence.
They were arrested in October 2014 after they were found setting up an illegal gold trading floor to cheat investors.
According to the indictment, Saga established the KTIC in November 2011, with a charter capital of VND20 billion. The company opened three branches with 18 business offices.
Investigations showed that between December 2012 and September 2014, the Taiwanese CEO and his accomplices illegally set up a gold trading floor to raise over VND280 billion ($12.4 million) at high interest rates from 717 investors. They then appropriated most of the funds, police said.
The company had paid a total of VND17.5 billion ($777,000) in interest to the investors and appropriated over VND264 billion.
Jung and his accomplices used sophisticated methods to fraudulently take their funds via a fake investment trust, police said.
The company also offered lofty salaries and attractive bonuses to its employees attracting investment.
The court will hear the case for ten days.
Source: VNS
Link
http://news.c10mt.com/search/label/vietnambreakingnews
and
http://news.c10mt.com
Links Topics :
http://news.c10mt.com/2017/08/hn-starts-virtual-gold-trading-trial.html