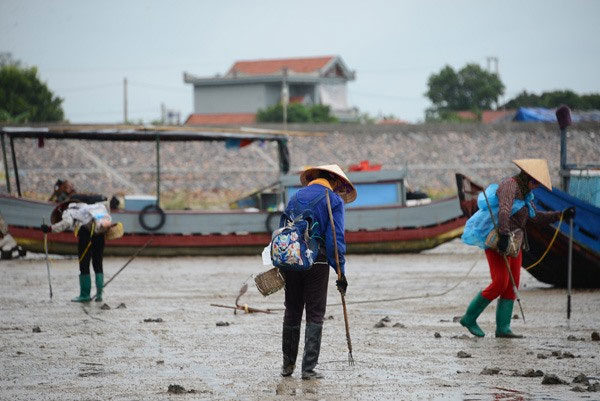 VietNamNet Bridge – Despite local authorities of northern coastal province of Quang Ninh ordering tougher management and punishment of destructive fishing practices, use of illegal fishing equipment is still common, Nong Thon Ngay Nay (Countryside Today) newspaper reported.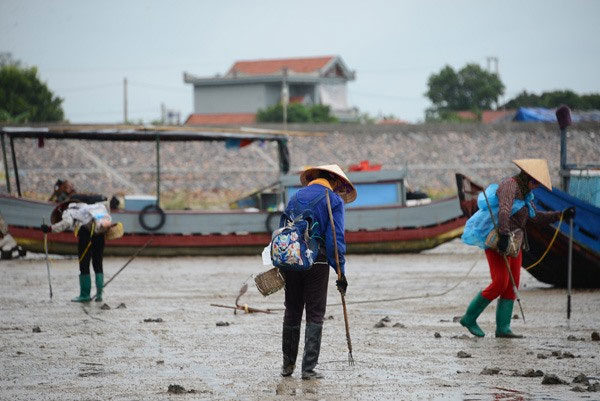 Fishermen use electric generators to catch clams. – Photo danviet.vn
In the first week of August, after inspecting fishing at Bai Tu Long Bay and Ha Long Bay, Nguyen Van Doc, Secretary of the Quang Ninh provincial Party Committee ordered local agencies to step up inspections and impose strict penalties on fishing vessels which use destructive fishing equipment.
He also ordered the ban on fishing in the core zone of Ha Long Bay and called for a plan to ban fishing in the buffer zone.
Quang Ninh Province has instructed local agencies to communicate the policy to the public and help fishermen find other jobs.
"We'll launch a province-wide campaign. Communications should be expanded. We'll also rein in the over-harvesting of marine resources," said Dang Huy Hau, Vice Chairman of the provincial People's Committee.
However, destructive fishing practices continue, even in daylight in some localities such as Hai Ha District and Mong Cai City.
According to the paper, at 9pm on August 9, on low-capacity fishing boats which docked Cai Chien Port in Hai Ha District, fishermen were using banned fishing equipment such as eight-sign cages, tasers and electric generators. Fishermen did not even attempt to hide these illegal devices.
When asked whether this equipment was seized before, a fisherman said 'Sometimes they have campaigns but cannot ban. If we do not use this, we will starve to death."
Along beaches of Quang Minh, Quang Phong, Quang Thanh, Tien Toi communes, some vessels use electric generators, with local authorities nowhere in sight.
Yet Nguyen Manh Cuong, chairman of Hai Ha District's People's Committee confirmed to reporters that the district's authorities are still ordering inspections and punishments.
On the beach along Hai Dong District, Mong Cai City, groups of fishermen use electric generators to catch clams. When the clams are stunned by the electric current, fishermen scoop them up. This fishing practice has been used in the commune for years, however, until now, no one has been punished.
Again, Nguyen Van Chieu, secretary of the commune's Party Committee and chairman of communal People's Committee confirmed that they established a team to penalise violations in fishing. After inspection campaigns, the biggest last May, he claimed there were no more violations in the commune.
VNS
Link
http://news.c10mt.com/search/label/vietnambreakingnews
and
http://news.c10mt.com
Links Topics :
http://news.c10mt.com/2017/08/illegal-fishing-continues-unbated-in.html