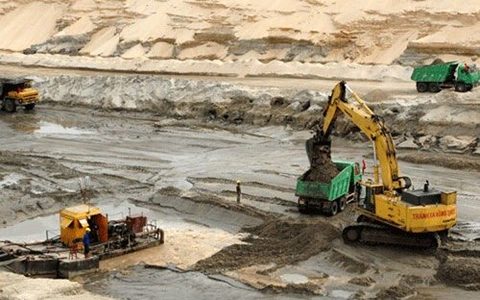 The Ministry of Industry and Trade (MoIT) has rejected a proposal to shut down a major iron mine over concerns that it poses risks to the environment.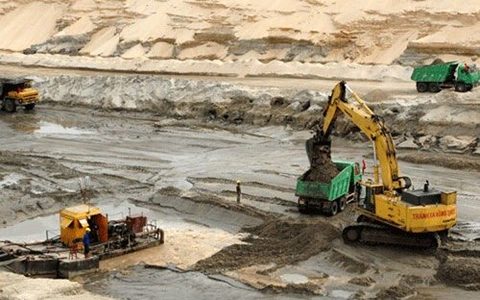 The Thach Khe iron mine in the central province of Ha Tinh.
The ministry said in a press statement that the proposal by the Ministry of Investment and Planning (MPI) to immediately terminate the Thach Khe iron mine project in the central province of Ha Tinh "was not based on scientific and practical considerations". It added that an alternative proposal would be submited to Prime Minister Nguyen Xuan Phuc for approval.
The project was approved in 2007 but work on its was suspended in 2011 after Ha Tinh Province authorities proposed closing the mine over environmental concerns. The PM then for a review by the MPI, which also suggested stopping the iron mine project and another steel billet manufacturing project.
"The Government should consider the thousands of billions of Vietnamese dong invested over the past 10 years. The termination would affect the investment and business environment in Ha Tinh Province," the MoIT said in its response.
It also called on the Government to consider the economic effectiveness of the project for Viet Nam's industrial and economic development, its contribution to the GDP and to reducing the country's trade deficit.
The Viet Nam Union of Science and Technology Association (VUSTA) held a conference on July 25 to collect opinions on the project. "Many ideas supported continuing the project. However, some still proposed more studies to clarify the issues of environment and biological diversification," it said, adding that the ministry would continue to co-operate with relevant ministries and the province on resolving the problem.
The Thach Khe iron mine project and its technical design was implemented by the Viet Nam National Coals and Minerals Group (Vinacomin), in co-operation with the Russian Design Institute for Dewatering of Mineral Resources, Special Mining, Mining Geography and Surveying (VIOGEM).
The ministry said it established councils of leading scientists and specialists in minerals, hydro-geology, engineering geology, mining, environmental protection. They included experts from VUSTA, the National Assembly for Environment Science and Technology and Ha Tinh Provincial People's Committee following instructions from the PM.
MoIT also invited the German CBM Company to provide consultancy as an independent expertise unit. "The environmental impact assessment report on the project has been carefully carried out. It took a year to complete and be approved by the Ministry of Natural Resources and Environment," it added.
MoIT said the environmental issues that scientists have raised were clearly defined in the report, with local and foreign specialists saying the proposed solutions were suitable.
It said the project was feasible as it would have revenue from not only minerals exploitation but water supply for local people.
As of November 2016, Thach Khe Iron JSC poured VND1.6 trillion (US$71.1 million) into the project. If the suspension continues, it will be unable to recoup the investment.
VNS
Link
http://news.c10mt.com/search/label/vietnambreakingnews
and
http://news.c10mt.com
Links Topics :
http://news.c10mt.com/2017/08/industry-ministry-rejects-proposal-to.html