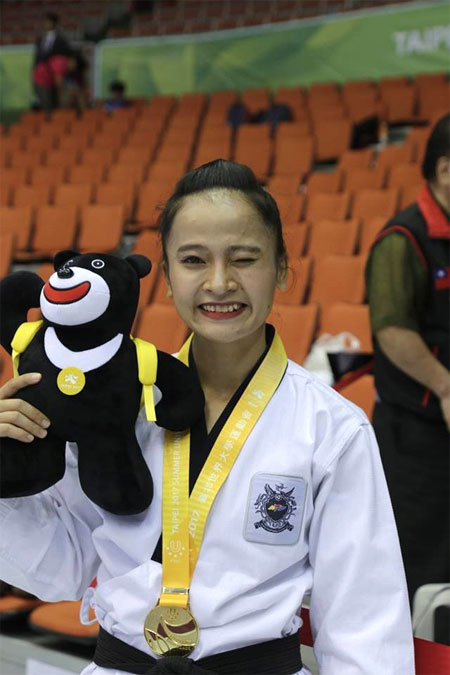 VietNamNet Bridge – Taekwondo artist Nguyen Thi Le Kim won a gold medal in the women's individual poomsae (performance) event at Summer Universiade, the world student Games, underway in Chinese Taipei, on Sunday.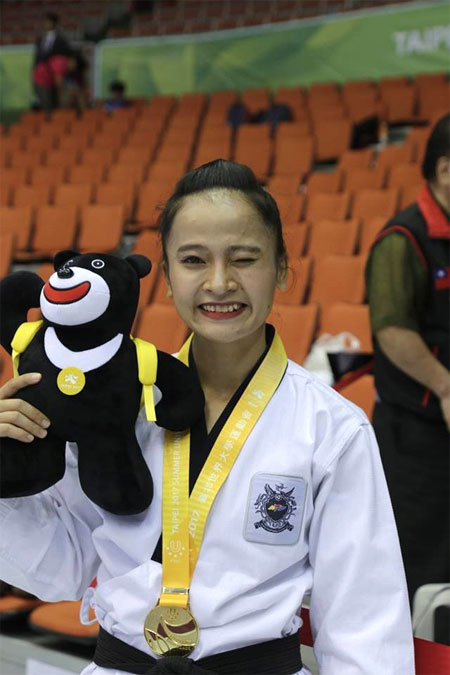 Taekwondo artist Nguyen Thi Le Kim poses with her gold medal and the Summer Universiade mascot on Sunday. — Photo facebook Nguyen Thanh Huy
Kim's outstanding performance won her 8.100 points for the first pattern and 7.465 for the second one with music.
Lin Kan-yu of the hosts came second, while American Adalis Munoz and Iranian Fatemeh Hesam shared the third place.
Kim, 24, is a student of Ton Duc Thang University in HCM City.
A member of the national team for years now, she has grabbed many international medals, including a silver at the world championship, and golds at the world military taekwondo tournament and the SEA Games.
Earlier, her teammate Hua Van Huy came ninth in the men's individual poomsae.
On Monday, Viet Nam's taekwondo athletes will compete in the men's and women's team poomsae and mixed doubles poomsae.
Kim and her teammates will leave for the SEA Games in Malaysia after the Summer Universiade wraps up. The taekwondo events at SEA Games begins from August 24.
The other sports that Viet Nam is competing in at Chinese Taipei are athletics, wushu and gymnastics, which will continue till August 30.
The Universiade, organised every two years, is the ultimate event for university athletes worldwide. It is one of the highest-profile international sporting events, second only to the Olympic Games in terms of the variety of competitions and the number of participating countries and athletes.
Source: VNS
Link
http://news.c10mt.com/search/label/vietnambreakingnews
and
http://news.c10mt.com
Links Topics :
http://news.c10mt.com/2017/08/kim-wins-gold-in-taekwondo-poomsae-at.html