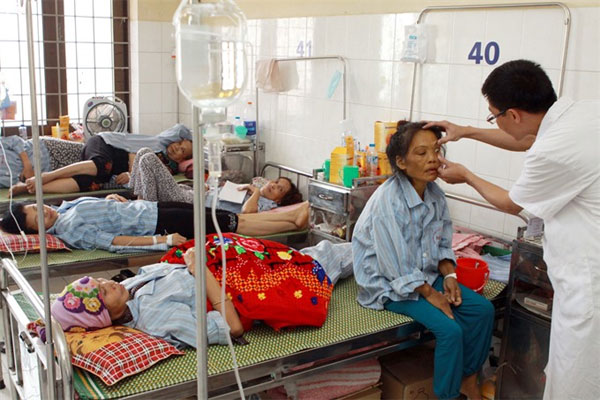 VietNamNet Bridge – Only around 10 per cent of patients infected with hepatitis C can afford treatment costs because the medications are expensive and not covered by medical insurance, according to a recent survey by the National Hospital for Tropical Diseases.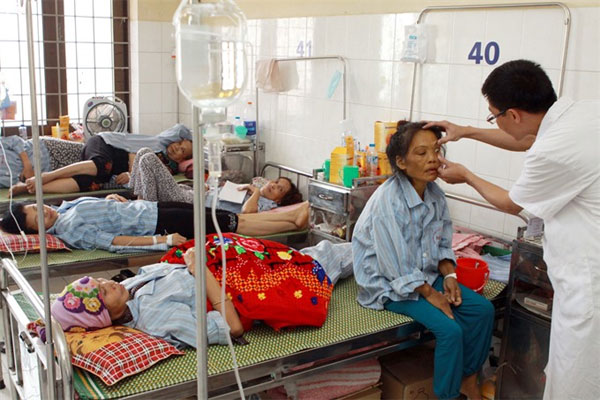 A doctor examines a patient at Ha Noi's National Hospital of Tropical Diseases. — Photo: VNA/VNS
Currently, around one million people in the country suffer from chronic hepatitis C, a disease often neglected in Viet Nam despite its potentially serious consequences.
Treating hepatitis C is critical for several reasons: reducing the risks of developing liver cancer and cirrhosis at a later stage, shrinking the number of those infected by the virus and containing its spread in the community, Dr Nguyen Van Kinh, director of the National Hospital of Tropical Diseases said.
According to experts, Viet Nam has many policies and guidelines on testing, treatment and prevention of hepatitis. However, a shortage of resources and funds for implementation, screening and prevention is a challenge, while there is limited coordination.
As of now, 90 per cent of hepatitis C patients can be cured completely, thanks to the new directly acting antivirals (DAAs). However, treatment cost is very high at around VND45 million (USS$2,000) for three months.
An infectious disease caused by the hepatitis C virus (HCV), the infection primarily affects the liver. During the initial stage of infection, most people have mild or no symptoms. Occasionally, there is fever, abdominal pain, passing of dark urine and jaundice.
However, the virus persists in the liver among 75-85 per cent of those who get infected. Again, early on a chronic infection typically has no symptoms. Over many years, it often leads to liver disease and cirrhosis. In some cases, those with cirrhosis develop complications such as liver failure, liver cancer, or dilated blood vessels in the oesophagus and stomach.
Nine out of every 100 Vietnamese people have contracted hepatitis B and between one and four people have been infected with hepatitis C. However, no estimate of the impact of the diseases has been done so far, a conference heard last month.
Deputy Minister of Health Nguyen Thanh Long said hepatitis B and C were known as the silent killers. The diseases had caused the deaths of 1.34 million people globally, higher than the number of HIV/AIDS-related deaths.
In Viet Nam, more than 7.8 million people had contracted hepatitis B while nearly one million were infected with hepatitis C this year. The number of newly-infected patients is expected to increase in the coming years.
VNS
Link
http://news.c10mt.com/search/label/vietnambreakingnews
and
http://news.c10mt.com
Links Topics :
http://news.c10mt.com/2017/08/most-hepatitis-c-patients-cannot-afford.html