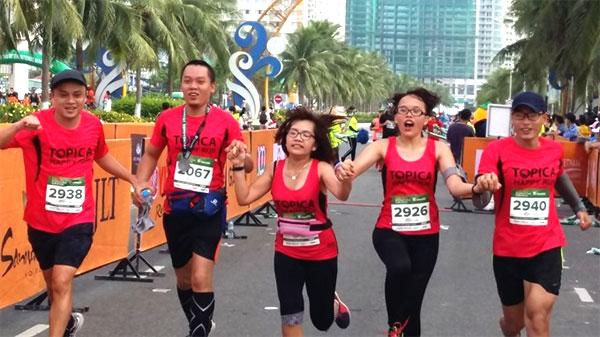 VietNamNet Bridge – Japan's Izawa Satoshi clocked a time of 2hr 39.53min to win the men's 42km race at the fifth annual Manulife Da Nang International Marathon on Sunday.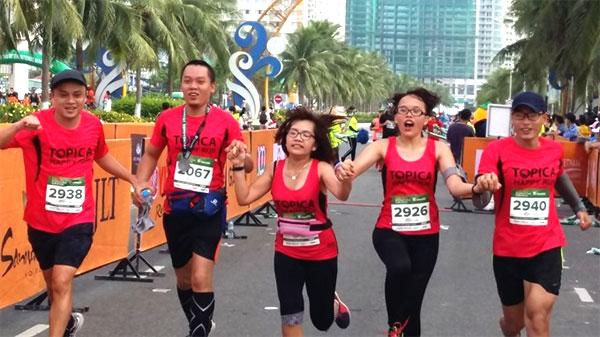 In it together: A group of five runners cross the finish line at the same time. — Photo: Cong Thanh/VNS
Satoshi breasted the tape ahead of Rafael Pecos of the Philippines, who came in second with a time of 2:40.03 and Le Van Tuan of Viet Nam, who clocked 2:48.23.
Lany Cardona of the Philippines won the women's 42km title with a time of 3:27.23.
Kazumi Kinoshita of Japan came second with 3:40.32, and Sophie Clarke of UK was third with 3:42.32.
"It's a nice track, but the weather was too hot. I was racing for the first time in Viet Nam and I am very happy with the result today," Cardona told Viet Nam News.
Both the men's and women's 42km-race winners will receive sponsorship to participate in the 2017 Shonan International Marathon on December 3 in Japan.
Satoshi also won the 2016 Shonan International Marathon.
In the men's half marathon (21km), France's Julien Davanne finished first with a time of 1:14.10, ahead of Vietnamese Hieu Nguyen and Richard Salano of the Philippines
Filipinos dominated the women's half-marathon category with Jho An Villamar, Nhea Ann Baroena and Rufa Sorongon grabbing the three top places, respectively.
Vietnamese runners ruled the 10km race.
Le Tuan (38.60min) as first, followed by Chau Giang and Dinh Tien.
On the women's side, Huong Nguyen of Viet Nam won the 10km race with time of 41.3min, followed by Phi Luong of the US and Ngu Fyen Jyen of Malaysia.
The oldest marathoner, Japan's Noriko Sakota, 72, completed the 42km race in 3:35.39.
Children from the Hoa Mai Da Nang orphanage also joined the 5km FunRun under the sponsorship of US veteran Dennis Zaborac.
This year's race raised more than US$21,000 for orphans, people with disabilities, Agent Orange Victims, the Village of Hope and 15 low-income families in the city.
Members of the Silver Strider Club from the US joined the race to raise awareness of 'runners and walkers over 50' in order to promote a healthy lifestyle and to give a voice to older runners and walkers.
The fifth marathon on the coast drew more than 5,000 athletes and visitors from 44 countries and territories contesting the 42km, 21km, 10km and 5km races.
Organised by the central Viet Nam city, the World Marathon Company and Pulse Active, this is the first Vietnamese marathon certified by the International Amateur Athletics Association and the Association of International Marathons and Distance Races.
Source: VNS
Link
http://news.c10mt.com/search/label/vietnambreakingnews
and
http://news.c10mt.com
Links Topics :
http://news.c10mt.com/2017/08/satoshi-cardona-win-da-nang-marathon.html