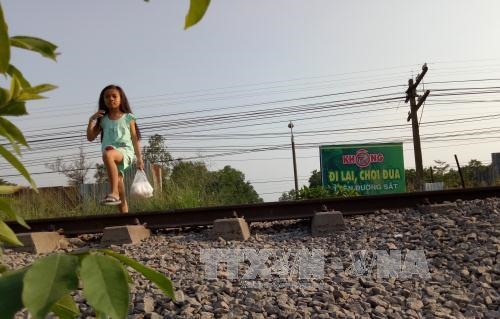 Đồng Nai closes illegal road-railway crossings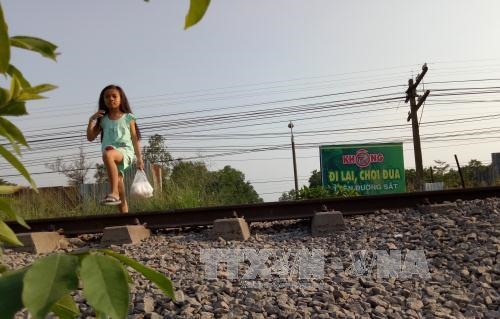 The Đồng Nai Traffic Safety Committee, in co-ordination with local authorities, has closed all illegal road-railway crossing in the province since March this year.
The work followed the request of Standing Deputy Prime Minister Trương Hòa Bình and the National Traffic Safety Committee.
Nguyễn Bôn, chief of the secretariat of the Đồng Nai Traffic Safety Committee, said the north-south railway system ran through five districts and towns of Đồng Nai Province with a length of 90km.
Local authorities set up 57 road-railway crossings with mobile warning system, guards and signals.
However, residents opened 66 illegal road-railway crossings without any warning signals, mainly in Biên Hòa City and Trảng Bom and Xuân Lộc districts.
The provincial authorities checked and decided to keep 11 crossings which are near industrial zones and residential areas. The province is setting up watchtowers, installing equipment and assigning guards to keep close watch at the 11 crossings all day and night.
Bôn said locals' awareness was still low, so they could re-open the illegal crossings. In the future, the Đồng Nai Traffic Safety Committee would improve education, and wards people's committees would strengthen inspection, imposing appropriate penalties on violators.
The province has witnessed five railway accidents, so far, this year, according to the Đồng Nai Traffic Safety Committee. The accidents killed six people and injured eight others, an increase by one and eight compared with the same period last year, respectively. Reasons for the accidents were locals crossing the railway line illegally and encroaching upon the railway safety corridor.
Cửa Việt firm gets brief sand mining ban
Quảng Trị Province has asked the Duy Tân Mineral Development Co Ltd to temporarily stop exploiting sand from the river in Cửa Việt Town.
Since the middle of July this year, the company's ships have been exploiting sand at the Bắc Cửa Việt Shelter in Gio Linh and Triệu Phong districts.
Local are worried that this could cause erosion, and are opposing the move strongly, with some using their fishing boats to get close to prevent the ship from working.
At a meeting between local authorities and residents on Wednesday, Nguyễn Khai, 41, who lives in Cửa Việt Town in Gio Linh District, said some parts of the embankment of the Hiếu River where the Duy Tân Co Ltd was working had cracked, broken and sank.
"I know the company works without communicating with the community," Khai said.
Despite disagreements with residents, on July 18, the company's ship exploited sand right in front of a resident's house.
Bùi Văn Báo, deputy chairman of the Cửa Việt Town Fatherland Front, said the company collected the sand going against regulations, causing worry in the community.
The company took sand from a very deep area which could cause landslides, he said.
Speaking at the meeting, Hoàng Minh Tân, general director of the Duy Tân Company, admitted the company's mistake and promised to resolve the matter.
Trần Lương Quang, deputy chairman of the Gio Linh District People's Committee, said the work of exploiting sand at the Bắc Cửa Việt and Nam Cửa Việt shelters was approved by Quảng Trị Province People's Committee.
However, supervision of work was unsatisfactory as the company and local authorities did not join hands to work together, he said.
Quang proposed to invite concerned departments and organisations to check and assess the work to correct the faults.
Hồ Xuân Hòe, deputy director of the Quảng Trị Department of Agriculture and Rural Development, proposed that the company supply information and documents about its work to local authorities and residents.
Hòe also asked for compensation for residents.
HCM City seeks more funding sources for infrastructure projects
An additional VNĐ20 trillion (US$883 million) needed for infrastructure projects by 2020 will have to come from the city budget as well as from private sources, as disbursement of state budget funds remains slow, the deputy chairman of the city's People's Committee, Trần Vĩnh Tuyến, has said.
As of the end of July, only VNĐ13.2 trillion ($583 million) had been disbursed of the VNĐ26.2 trillion ($1.16 billion) from state budget funds allocated this year for infrastructure projects in the city, according to the Department of Planning and Investment.
The city still needs Official Development Assistance (ODA) funds of VNĐ7.7 trillion ($340 million) for projects for the rest of the year, but State funds can only provide 50 per cent of that figure.
A department official said that limited funds were causing projects to run behind schedule.
The slow disbursement of funds has also caused difficulties for project contractors, resulting in penalties and more interest charged for delayed payments.
The Metro Line No 2 project, which will link Bến Thành Station in District 1 to Tham Lương Station in District 12, has seen delays because of slow capital disbursement for land clearance, according to reports from district authorities.
A new bidding law on land compensation prices to residents who must resettle to make way for infrastructure projects has still not been approved, contributing to the delay.
Tuyến asked local government agencies to adjust compensation prices if the prices are inappropriate, and told districts to review their methods on disbursing capital.
The city's Department of Home Affairs is also responsible for price appraisals that would determine the amount of compensation for land.
He also said the localities should speed ​​up disbursement of all state budget funds by the end of the year.
"Localities that do not disburse all capital will have to report to the Government on how they use their state budget funds next year," he said.
PVF tie with Viettel in U15 football tourney
PVF tied with Viettel 1-1 in Group B's first match in the National U15 Football Championship on August 3 in the southern province of Tây Ninh.
Viettel dominated the match from early on, but in a quick attack, Trịnh Văn Chung put his header past Viettel's goalkeeper and scored for PVF in the fifth minute.
The early goal helped PVF play more comfortably, but it bothered their rival, who made several defence errors, which PVF, however, failed to take advantage of and score.
In the 65th minute, Nguyễn Văn Tú levelled the score 1-1 for Viettel.
In the other match, Sanatech Khánh Hòa beat Đồng Nai 4-2.
In the sixth minute, Đồng Nais' Quốc Lộc made a mistake in the penalty area and Khánh Hòa's captain Lê Minh Thọ did not miss the opportunity in the penalty shootout, giving his team a lead.
In the 21st minute, Đồng Nai's captain Lê Anh Tú levelled the score 1-1. Two minutes later, Lê Quang Khánh converted a pass from his teammate successfully, raising the score to 2-1 for Đồng Nai.
After the break, Khánh Hòa put in their utmost, which paid off with three goals by Đỗ Trường Trân in the 42nd minute, Nguyễn Anh Thi in the 49th minute, and Huỳnh Thanh Tuấn in the 71st minute.
Eight teams that qualified in April are playing this tournament, known as the Thái Sơn Bắc Cup. The teams, divided into two groups, are competing in a round robin format. The top two teams from each group will advance to the semi-finals; the final will be played on August 12. The winners will walk away with VNĐ50 million (US$2,200).
Ân wins rapid category of Chinese chess event
Ngô Thừa Ân of HCM City won the rapid Chinese chess event of the girls' U13 category at the National Junior Chinese Chess Championship in HCM City on Friday.
Ân totalled seven points after nine rounds. Her teammate Đỗ Mai Phương and Quách Minh Châu of Hà Nội were the runners-up with seven and 6.5 points.
In the girls' U15 division, Lại Quỳnh Tiên of HCM City triumphed with six points, followed by Ngô Thị Bảo Trân of HCM City and Lê Mai Tuệ Anh of Bắc Kạn.
In the girls' U18 event, Hanoian Kiều Bích Thủy won with 5.5 points. Nguyễn Diệu Thanh Nhân and Trần Thị Bích Hằng of Bình Dương finished second and third.
Meanwhile, Nguyễn Diệu Hà of Hà Nội and Đinh Trần Thanh Lam of HCM City triumphed in the U7 and U19 categories, respectively.
On the boys' side, Hoàng Nhật Minh Huy of HCM City took gold in the U7 event with seven points, followed by Phạm Phú An and Nguyễn Huy Vũ of Hà Nội.
In the U9 category, Hà Khả Uy brought Bình Phước a gold medal after gaining 8.5 points. Phan Huy Hoàng and Lê Nguyễn Khang Nhật of HCM City took silver and bronze medal.
In the U11 event, Nguyễn Tấn Phát of HCM City defeated 43 others to win gold with 7.5 points. His teammates Huỳnh Hào Phát and Nguyễn Quốc Toàn got silver and bronze.
Hà Nội grabbed two more golds through Trần Anh Dũng and Hoàng Xuân Chính in the U13 and U18 events, respectively.
Players are competing in eight different age groups ranging from U7 to U18 for boys and girls in four categories: standard, traditional, rapid and blitz.
National women's U19 football event kicks off
The National Women's U19 Football Championship's first leg kicks off on Saturday at Thống Nhất Stadium in HCM City.
The event will feature Hà Nội, Phong Phú Hà Nam, Việt Nam Coal and Mineral and HCM City competing in a round robin format.
The winner will walk with VNĐ50 million (US$2,170), while the runners-up will receive VNĐ30 million ($1,300) and VNĐ20million ($870), respectively.
The event's organising board will also reward the best player, top scorer and the best goalie.
The event will end on August 20.
Last year, Phong Phú Hà Nam beat Việt Nam Coal and Mineral in the final to take the title.
Link
http://news.c10mt.com/search/label/vietnambreakingnews
and
http://news.c10mt.com
Links Topics :
http://news.c10mt.com/2017/08/social-news-68.html