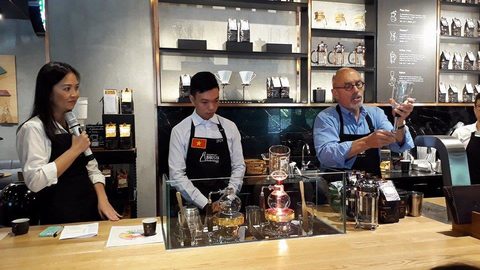 Starbucks will start re-selling Viet Nam's Da Lat coffee globally this year after a year of disruption, the company announced in a session with the Starbucks Coffee Ambassador on Tuesday.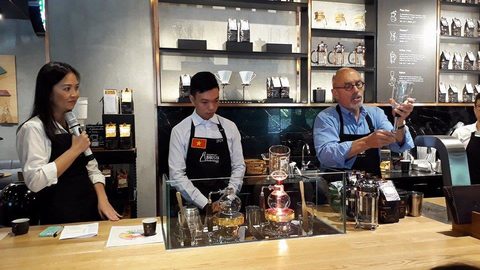 Da Lat coffee, designated as a Starbucks Reserve Coffee, which is exceptional coffee in limited quantities, was sold globally by Starbucks for the first time in January 2016.
Due to its limited quantity, Da Lat coffee could be supplied only for a short time. It stopped selling early last year when the 2016 coffee crop did not meet the Starbucks' quality standards.
D. Major Cohen, Starbucks Coffee Ambassador, said Da Lat coffee is roasted in a roastery in Seattle in the United States, but he declined to disclose the specific time when the products go on sale.
He added that this year Da Lat coffee is much tastier than the previous crop with more flavours. Da Lat coffee is known to have a bright refreshing acidity that brings out the flavours of kola nut, toffee and vanilla. It cost US$50 per small bag last year.
With the aim of ensuring the supply of the finest coffee, Starbucks only purchases coffee beans from farmers and suppliers who perform the C.A.F.E (Coffee and Farmer Equity) Practices, which are used to evaluate the quality, economics, social and environmental aspects of coffee production, Major added.
He also said that Starbucks is committed to selecting one coffee origin from the coffee-growing countries such as Viet Nam, India or Indonesia, to sell in their stores globally.
Da Lat coffee is the first single-origin coffee from Viet Nam that is being sold globally.
In the session, Major also shared his experience in the local shops in Ha Noi on his first trip to Viet Nam where he got a taste of the rich coffee tradition in the country.
He also shared his passion for coffee and the core success of Starbucks that has been built on passion and curiosity, which encourage its partners (employees) in constantly learning.
Major has worked with Starbucks for more than 22 years and is the Starbucks Coffee Ambassador for China and the Asia-Pacific region.
Starbucks, established in Seattle in 1971, has expanded its presence in over 30 countries with more than 24,000 stores worldwide.
VNS
Link
http://news.c10mt.com/search/label/vietnambreakingnews
and
http://news.c10mt.com
Links Topics :
http://news.c10mt.com/2017/08/starbucks-to-re-sell-da-lat-reserve.html