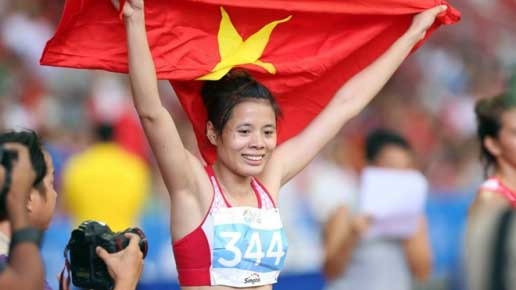 Vietnam's track and field athletes have departed for Malaysia to participate in the 29th Southeast Asian (SEA) Games, with the aspiration of repeating the miracle they produced at the in Singapore Games two years ago, when they won 11 of the country's 73 overall gold medals.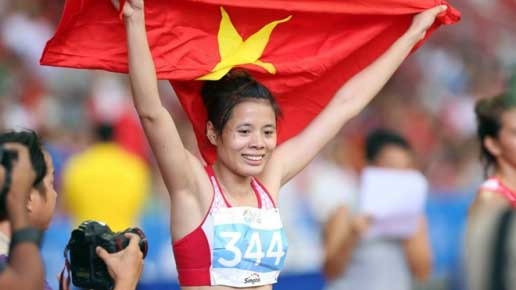 Nguyen Thi Huyen is one of the Vietnamese athletics team's biggest gold medal hopes at the 29th SEA Games.
Based on the positive results by members of the national athletics team at recent international competitions, it is strongly believed by experts that a medal tally of 10-12 golds in Kuala Lumpur is within the reach of Vietnamese athletes.
At the 2017 Asian Athletics Championships held in India early last month, outstanding names of Vietnam's athletics team, including Quach Cong Lich, Nguyen Thi Huyen, Bui Thi Thu Thao and Quach Thi Lan, are promising title favourites in Malaysia. During the competition, Nguyen Thi Huyen secured a gold medal and broke her own national record in the women's 400m hurdles event, clocking an impressive time of 56.14 seconds. Meanwhile, her teammate, Bui Thi Thu Thao, was also crowned champion in the women's long jump discipline, following a distance of 6.54 metres.
In addition, "speed queen" Le Tu Chinh, born in 1977, won two gold medals in the women's 100m (11.47 seconds) and 200m (23.52 seconds) events at the recent Thailand Open Track and Field Championships, thus becoming a title favourite on short distances in this year's SEA Games.
With a lineup of athletes in good form, Vietnam's athletic team are eyeing another successful SEA Games in Malaysia. The timely shining performance of the abovementioned athletes have helped to fill in the vacancies left by previous SEA Games gold medallist, including Nguyen Thi Thanh Phuc (race-walking), Le Trong Hinh (men's 200m) and Do Thi Thao (women's 800m and 1,500m), who have already retired from their athlete career.
At the previous Games in Singapore, the athletics team accounted for the most gold medals, with 11 gold medals won for Vietnam. The team's most outstanding performer was Nguyen Thi Huyen, who captured three gold medals (two individual and one team) and broke three Games records and secured two 2016 Olympic berths in the women's 400m and 400m hurdles.
Nhan Dan
Link
http://news.c10mt.com/search/label/vietnambreakingnews
and
http://news.c10mt.com
Links Topics :
http://news.c10mt.com/2017/08/vietnamese-athletics-expected-to-repeat_15.html