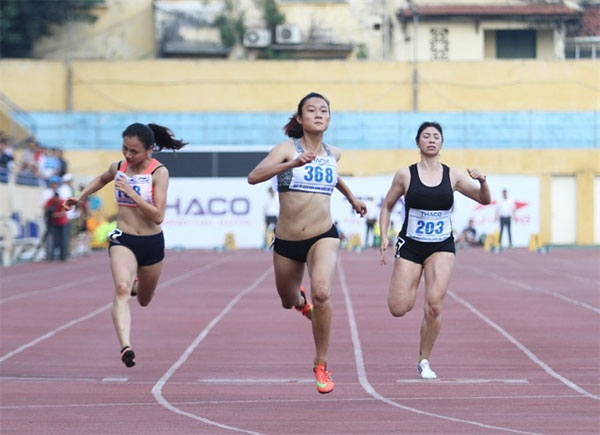 VietNamNet Bridge – It may be her career's first Southeast Asian Games (SEA), but all eyes are on 20-year-old Le Tu Chinh, who is expected to bring back the 100m and 200m titles to the country later this month.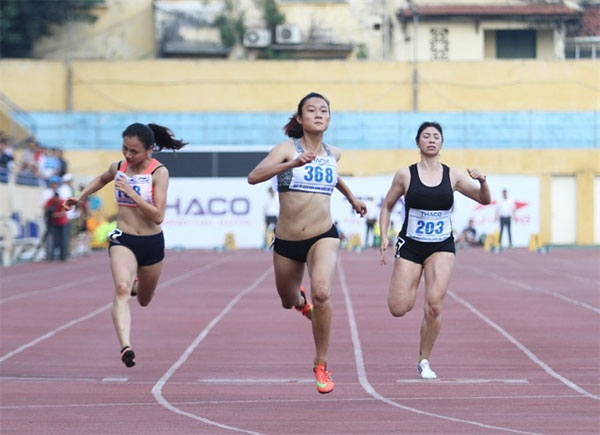 Le Tu Chinh (centre) competes at the 2016 National Athletics Championship. Chinh will compete at this year SEA Games for the first time in career. — Photo thethaohcm.vn
Viet Nam's Vu Thi Huong dominated the event for many years, winning seven gold medals in both the 100m and 200m events from 2005 until 2013. The "ASEAN sprint queen" was defeated just once in the games in 2011, when she came third in both the categories. Huong, 31, retired several months ahead of the 28th Games in 2015, although she was still strong enough to beat any regional rival.
Huong's absence caused the loss of two golds for Viet Nam in the medals tally, as the country were yet to produce an athlete then who could follow in her footsteps.
Kayla Anise Richardson of the Philippines took the 100m gold that year with a timing of 11.76sec. Singapore's Veronica Shanti Pereira triumphed in the 200m, timing 23.60sec.
Two years on, people are now seeing glimpses of "queen" Huong in Chinh.
Remarkable progress
After nearly 10 years of practising with coach Nguyen Thi Thanh Huong, Chinh has taken her first big step in the short distance track events.
At the national championship 2016 in November, Chinh became the champion in the 100m with a timing of 11.64s and the 200m with 23.71s.
She managed to emulate her coach's performance as an athlete in 1995, two years before Chinh was born.
In April, Chinh was the youngest national athlete in the Asian Grand Prix's three stages, where she clinched two bronze medals in the 100m.
In the Thailand Open tournament in June, Chinh reached her personal best of 11.47s in the 100m, which was better than the gold-winning timing in SEA Games. It was the first time she ran below the 11.50s mark. The result was also better than her retired teammate Huong's gold-winning performance of 11.59s in 2013.
Two days later, the HCM City-born athlete beat SEA Games winner Pereira to take the gold in the 200m event with a timing of 23.52s.
Her result has astonished Vietnamese sport fans, as it was much better than the timings of gold medallists in the last three SEA Games.
Coach Huong said that countries such as Thailand, Singapore and the Philippines have strongly backing for their athletes in the short distance races at the Malaysian Games, so it was difficult to say anything prior to the event.
Meanwhile, head of the Athletics Department Duong Duc Thuy was confident that Chinh could take both the titles, if she could maintain her current performance.
Chinh is aware that she will have to best her personal record to win at the games.
"It has been my goal ahead of every tournament, and until now, I have achieved it," said Chinh, who has not been given any title target for the Malaysia Games though.
A year after her 200m gold (23.94s) at the Asian youth tournament in 2016, Chinh has shaved four per cent of a second.
"It is a remarkable progress, and with such result, she could vie for the titles," coach Huong said.
Apart from the two individual events, Chinh will join her teammates in the 4x100m relay event. She is expected to win a gold in this category too, which could give her a hat-trick in Kuala Lumpur.
I can run faster
Chinh grew up without the care of a mother who died when she was six. She lives with her father, who had to work hard to feed his three girls.
Chinh was selected to HCM City's athletics team when coach Huong saw that this thin 11-year-old girl from Tuy Ly Vuong Primary School had something special to offer.
Having also lived without a mother, Huong tried her best to train Chinh like her own daughter.
"Huong has been the biggest influence in my career. She always does her best for me. Without her, I could not have achieved anything. She is the strong force that motivates me to do better and better," Chinh said.
Meanwhile, coach Huong is all praises for Chinh's character and ability.
"Chinh has a height of 1.68m, which is suitable for running, and she is really good in sprinting," Huong said.
"She is not better than her other teammates in terms of talent. However, she is hard working. She always asks for more exercises after every training session. She has also shown a keen determination in athletics," Huong said.
For Chinh, her guideline is the quote, "On the way to success, there is no trace of lazy men."
"A professional athlete must keep in mind that one must practise relentlessly. Relaxing even for a second can leave you far behind your rivals," she said. "Glory can only be earned by shedding sweat and tears, and even blood on the field."
Running is now her passion and the means to help her poor father.
"A good result in running will bring me victory and bonuses; my father will not have to work so hard then," she said.
A year after joining the athletics team, Chinh brought her first monthly salary home. Her tiny house in District 8 was gradually furnished, something she could scarcely dream of doing before.
Chinh enjoyed the first medal of her career in 2011, when she came third in the 100m event at the national age groups championship.
A year later, her perseverance helped her secure three golds in the 100m, 200m and 4x100m events at the National Student Games.
In 2013, Chinh grabbed her first international medal in the ASEAN youth tournament.
After another two years, she officially took part in the national championship and clinched two bronze medals in her familiar events, together with two golds in the ASEAN School Games.
She soon became a member of the national team. Since then, she has showed great potential.
In 2016, besides a bronze and a gold in the Asian youth championship in June, Chinh also triumphed in the Asian Beach Games with one gold and one silver in Da Nang and the HCM City International Athletics Tournament with two titles.
This year, it was her victories at the Thailand Open which left her emotional.
"I am a little surprised with the two gold medals in Thailand, because two years ago in the same events, I ranked fourth. I hope to improve these results in the coming games. I am only 20, and I think I can make it big," said Chinh, who considers (Vu Thi) Huong her idol, and describes her as a woman with an iron mind and a competitive spirit.
"It was the most exciting night in my life. I could not sleep a second thinking of the moments on the podium. It was like a dream," she said of her victory in Thailand.
Chinh, a student of the HCM City University Physical Education & Sport, is now focussing on winning medals in her first SEA Games.
"It is my dream. It is my highest target for this year, and I will run faster for it," said Chinh, who will be sent for an intensive training to the United States later this year.
Former runner Huong has backed Chinh, stressing that she would be the new queen in the region.
"Believe me, the 100m and 200m golds will be hers," she said.
"I knew her since she was a novice in the national team. She is hard working, has a good physique, a good start and an impressive finish. I am not surprised with her successes in the recent two years. I think she can even reach the Asian level," said Huong, who hoped to see Viet Nam dominate the short distance events once again in the games.

Thanh Ha

VNS
Link
http://news.c10mt.com/search/label/vietnambreakingnews
and
http://news.c10mt.com
Links Topics :
http://news.c10mt.com/2017/08/vietnamese-runner-eyes-asean-sprint.html