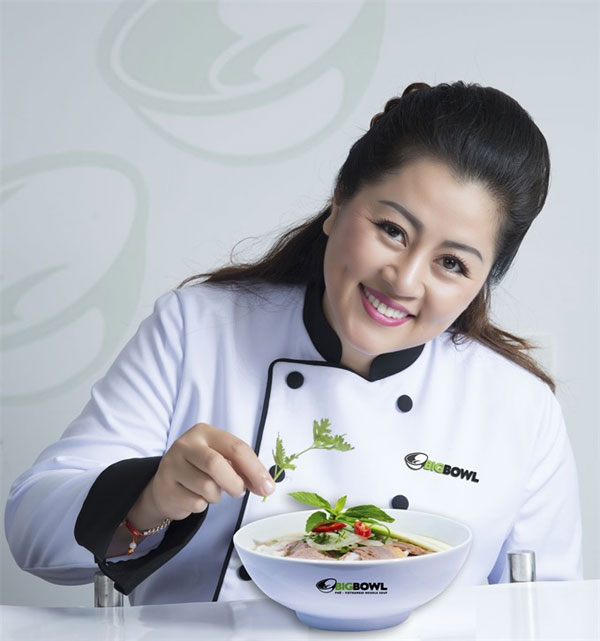 VietNamNet Bridge – As an icon of Viet Nam's culinary scene, celebrity chef Phan Ton Tinh Hai has been selected to be the brand ambassador for Big Bowl, a pho-based restaurant chain. Inspired by her mother, one of the successors of royal Hue cuisine, Hai has great insight about food and is passionate about promoting Vietnamese cuisine. Hai talks to reporter Bo Xuan Hiep.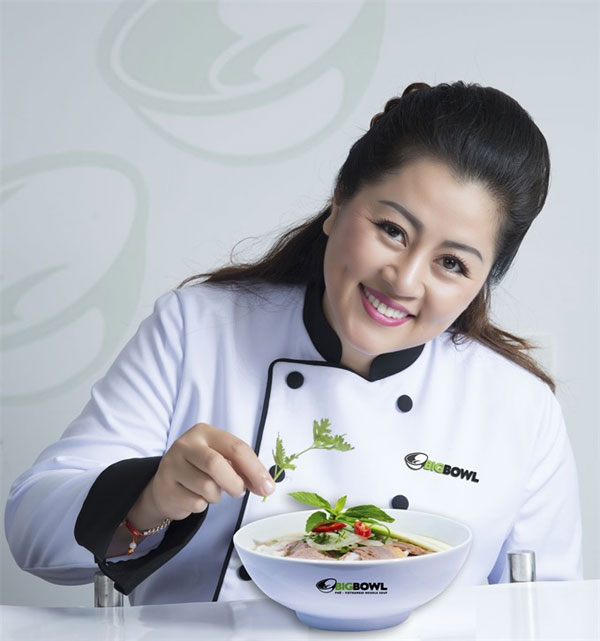 Celebrity chef Phan Ton Tinh Hai. Photo courtesy of the Big Bowl
What does it mean to you to be chosen brand ambassador of the restaurant chain Big Bowl?
I'm very proud to be the brand ambassador for the Big Bowl brand of pho-based restaurants located in five international airports in Viet Nam. As the iconic dish of Vietnamese cuisine, pho is a traditional daily favourite of the Vietnamese, wherever they are.
Big Bowl's mission is to serve the best of Vietnamese cuisine. The partnership with Big Bowl is an interesting opportunity to expose both local and international travellers to the diverse and elegant Vietnamese cuisine through pho [beef or chicken rice noodle soup] and other dishes.
As pho is already a popular dish among Vietnamese and foreigners, what do you expect to bring to customers as the ambassador for Big Bowl?
Airports are often criticised by passengers for their sameness and blandness in F&B (food and beverage) and services, offering look-alike merchandise, menus and brands. To me, airport F&B should truly reflect local tastes, traditions, culture and community values. That is the best way to address this.
As the ambassador of Big Bowl, I want to share with everyone the values of traditional Vietnamese cuisine through pho, a dish of sophisticated taste and balanced nutrition.
Pho is also a food intimately attached to many generations of Vietnamese. At Big Bowl, diners are urged to eat pho with several accompaniments.
Why did you decide to pursue a culinary career despite your major in law at university? What is the source of your inspiration and passion for food?
I grew up with a bold impression of my mother's kitchen, culinary artisan Ton Nu Thi Ha, one of the successors of royal Hue cuisine. Naturally, I learned about the delicacy and sophistication of Hue cuisine, from rustic dishes to elegant royal dishes. A chef's career is likely my destiny as it is my family's traditional craft.
When I was in Hue, I attended the Law University while studying at the College of Tourism and Culture. Upon graduation, I was invited to lecture at the Hue Tourism College where I was fortunate to work with Tony Donovan, a chef from Luxembourg who was also a lecturer at the college at that time.
I was chosen by him to attend a special training course and practise at a five-star hotel in Ha Noi. This opportunity helped me realise how culinary art appeals to me. And this is the career path I wanted to experience and pursue. I also got a master's degree in food and nutrition in the US.
My mother inspires me in my career. Whenever I feel tired, I go back to my mother who still shows her great passion for cooking at the age of 80. She still conducts research about the art of Hue's royal cuisine, Hue's folk food and typical ingredients of Hue cuisine. I admire her so much. Whenever I see her, I feel empowered and motivated to remain passionate about my culinary career.
You are known for your use of bold flavours and healthy ingredients. How do you showcase the uniqueness of regional Vietnamese cuisine?
When I have an opportunity to participate in culinary events in Viet Nam and abroad, I often introduce the uniqueness of Vietnamese cuisine associated with the culture of wet rice agriculture. I also present the abundance of dishes made of rice and highlight the diversity of the regional cuisine, and of raw materials and spices across the country.
At Big Bowl, I present delicious dishes that are healthy and well-prepared from globally recognised ingredients. I also tell stories about traditional values and the nutritiousness of Vietnamese dishes to passengers.
You have been involved with many popular TV shows such as Master Chef, Master Chef Junior and Iron Chef as well as being a host of TV cooking programmes. How do you think these programmes have promoted Vietnamese cuisine to the world?
In my opinion, culinary TV programmes are an effective channel to promote Vietnamese cuisine to the world. The public has the opportunity to better understand Vietnamese cuisine through creative and beautifully presented dishes. The shows also provide opportunities to interact, practise and train generations of professional Vietnamese chefs.
You are a principal and lecturer at the Mint Culinary School in HCM City. Could you tell us a little bit about it? Why did you decide to open the school?
The Mint Culinary School is the place where I put my passion and desire to impart authentic culinary values to students. I recognise that the cooking industry in Viet Nam has been growing fast in recent years, but most of the local chefs are not professionally trained.
The school was established to bring chef enthusiasts who want to pursue a professional career and have a professional learning environment and opportunity to practise with both well-known Vietnamese and international culinary experts.
To me, cuisine is an art and the chef is an artist who conquers not only the visual but also the taste of the diners. Therefore, we need a generation of professional chefs who are well-trained and know how to bring into full play traditional Vietnamese culinary values. Indeed, I am very happy that many generations of my students have succeeded in the profession.
Globalisation has influenced Vietnamese eating habits. People have opportunities to try a variety of food from all over the world. Thus, Vietnamese food appears no longer to be the first choice. What do you think?
The real demand of the market shows that Vietnamese people are quite loyal. No matter where they go, and how many specialties they eat, they still miss and seek authentic dishes from their hometown. I strongly believe that Vietnamese food, especially pho, is always the first choice of Vietnamese.
The dish was described as a "bowl of heaven", one of 12 dishes that travellers should try, by The Huffington Post, a US news website. The only problem is how to keep the dish authentic, which is always the concern of Big Bowl.
VNS
Link
http://news.c10mt.com/search/label/vietnambreakingnews
and
http://news.c10mt.com
Links Topics :
http://news.c10mt.com/2017/09/brand-ambassador-spreads-love-for.html