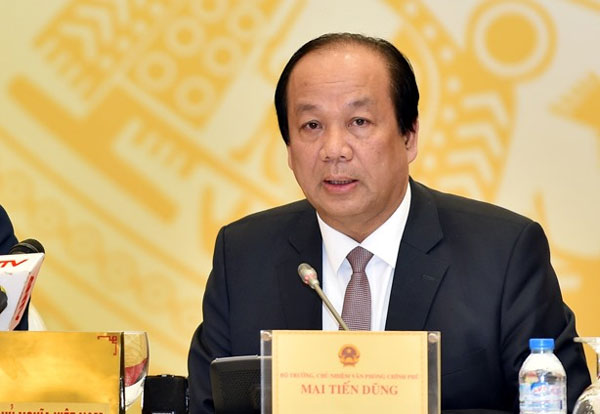 VietNamNet Bridge – Mai Tien Dung, Minister- Chairman of the Government Office speaks to Thoi bao Kinh te Viet Nam (Viet Nam Economic Times) newspaper about the Government's resolve to change the State apparatus.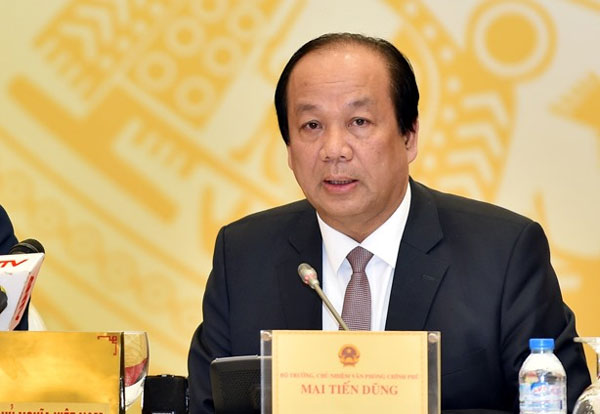 Mai Tien Dung
Can you explain Prime Minister Nguyen Xuan Phuc's decision to establish a government working group to monitor ministries and agencies' implementation of the Government's assigned tasks?
PM Nguyen Xuan Phuc signed a decision to establish a working group on August 19 when the nation was commemorating the August 19, 1945 revolution. He hoped with the spirit of the revolution, all members of the working mission would make efforts to create a new revolution to take the country to a higher plane amid many difficulties and challenges.
Many people hope the new working group can change the State apparatus. Do you think it can?
Yes I think it can. PM Phuc once said "only when we have a comprehensive reform, we'll be able to make the State apparatus clean and work effectively. And only having a clean State apparatus can our economy fly high".
Of course, the key objective of the working group is to identify weaknesses and challenges that public agencies and offices have confronted while carrying out their tasks.
Another very important task assigned to the working group is to come up with solutions or proposals to help state agencies or offices to solve their problems.
All members of the working group have vowed to do their best to accomplish the missions assigned to them. We understand that our assignments are demanding and a lot of difficulties and challenges lie ahead. However, we vow to uphold the principles of righteousness, objectivity and honesty during our mission.
PM Phuc has instructed his cabinet and staff to be loyal servants to the people. Can you elaborate on the PM's instructions?
The PM has instructed us to create two websites to link the Government with enterprises and another between the Government and the people.
Since the launch of these two websites, the Government Office has received thousands of comments or suggestions from people and enterprises. Hundreds of questions asked by the people or enterprises have been answered by Government agencies or authorities. Of course, the Government Office has monitored the problems raised by the people and enterprises. We have even asked the people/enterprises to grade the answers they receive.
Since the launch of these two websites, on many days some 500-700 comments were sent and they were all read and classified before being forwarded to concerned agencies to handle them. In some special cases, we dispatched staff to meet the senders and discussed the problem directly with them to determine solutions.
Upon the PM's initiative, many ministries, cities, provinces and others have set up working groups to help their ministries or local authorities perform their assigned duties to their best.
VNS
Link
http://news.c10mt.com/search/label/vietnambreakingnews
and
http://news.c10mt.com
Links Topics :
http://news.c10mt.com/2017/09/lets-join-hands-for-prosperous-viet-nam.html