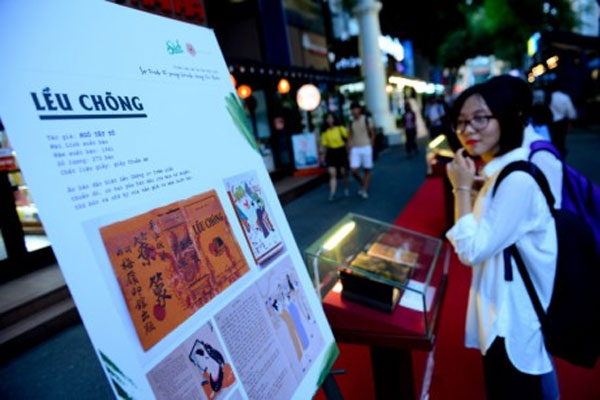 VietNamNet Bridge – Dozens of old and rare books featuring Vietnamese history and culture in the 20th century are on display at the HCM City Book Street on Nguyen Van Binh Street in District 1.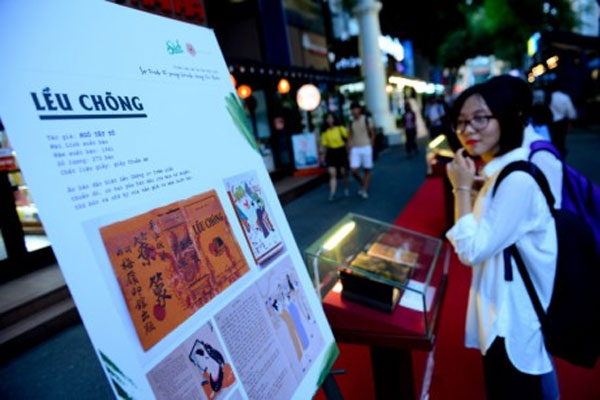 Old and rare books by famous authors of the 1920s and 1940s are on display at the HCM City Book Street on Nguyen Van Binh Street in District 1. — Photo vanhoa.com
The books selected from collections by authors and collectors in Ha Noi and HCM City. Each book represents a report on the country's history, culture and lifestyle.
Featured books are by authors Nguyen Tuan, Ngo Tat To, Bui Hien and Phan Van Hum, who played a role in Vietnamese literature in the 1920s and 1940s.
Readers have enjoyed the first publication of Tuan's Vang Bong Mot Thoi (Echo and Shadow Upon a Time), printed on silk paper by the Tan Dan Publishing House in 1940. The book has Tuan's signature on the title paper.
Other books of Tuan, including Thieu Que Huong (Without Homeland), published in the 1930s are also displayed.
Tuan was one of the nine biggest authors of contemporary Vietnamese literature. His writing style is creative and lively.
Born in Ha Noi, Tuan began his career in the early 1930s, but only gained public recognition from 1938 with several essays and reports such as Vang Bong Mot Thoi, Mot Chuyen Di (A Journey) and Chu Nguoi Tu Tu (Penmanship of A Death Row Prisoner).
After the August Revolution in 1945, he joined the Communist Party and later became the chief secretary of Viet Nam Art & Literature Association.
He was knowledgeable in painting, sculpture and theatre. His works are masterpieces that highlight the beauty of Vietnamese culture and language. He was awarded the Ho Chi Minh Award for Art and Literature presented by the Government. Ha Noi has a street named after him.
One of the highlighted books is Leu Chong (Heading for Royal Exam), a publication on do (handmade paper made from the bark of do tree) written by Confucianist, writer and reporter To.
The work features the lives of Vietnamese farmers under the feudal system and French colonialism in late 1930s. It was printed by Mai Linh Publishing House in 1952.
The exhibition will include a forum on publications, hosted by cultural researcher and literature critic Vuong Tri Nhan on the closing day on September 10.
A book auction to raise funds for charity will also be included.
Source: VNS
Link
http://news.c10mt.com/search/label/vietnambreakingnews
and
http://news.c10mt.com
Links Topics :
http://news.c10mt.com/2017/09/old-book-exhibition-reviews.html