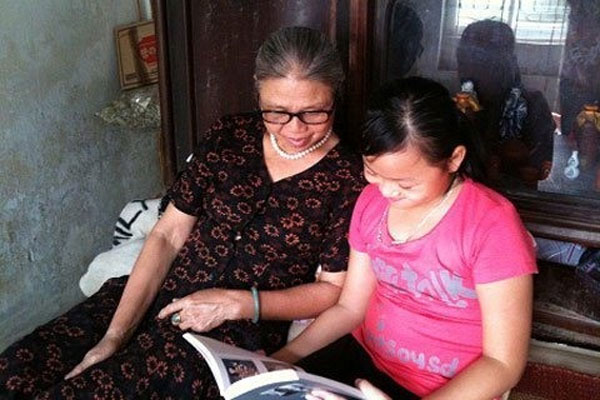 VietNamNet Bridge – Reading books to the elderly, patients in hospitals, and the visually impaired has become a popular part-time job for young adults in HCM City.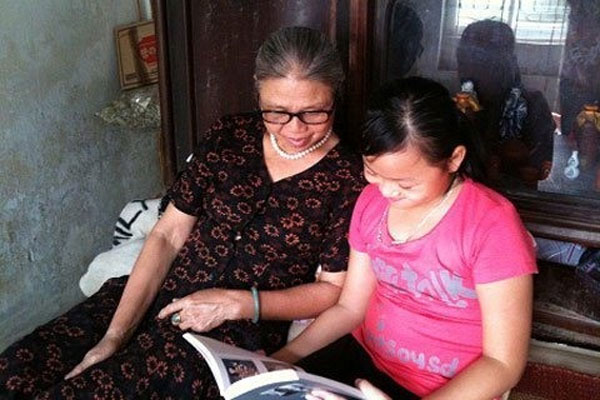 Useful habit: A part-time book reader normally earns about VND2 million (US$88) per month. Photo VNN
The demand for book readers is surprisingly high, with the internet making it easier for readers and listeners to meet.
In fact, it is common to see "looking for book readers" on timviecnhanh.com, vietnamplus.com, vietlam24h.vn, and other websites.
Nguyen Thi Lan, 21, a student at HCM City Pedagogical University, told Sai Gòn Tiep Thi (Sai Gon Marketing) newspaper that she began reading for others while taking care of a relative in the hospital.
As Lan was reading a book during her free time, older patients at the hospital asked her to read for them.
"Initially, I didn't think of earning money, but the listeners began to pay me as I began to read to them more often. Book reading gradually became my source of income," she said.
Initially, she started reading to friends, and then later friends of friends, usually for VND40 – 50,000 (US$1.8 – 2.2) per hour, earning about VND2 million (US$88) per month.
In addition to going to people's homes, Lan also visits Gia Dinh People's Hospital, People's Hospital 115 and Hung Vuong Hospital to read to patients.
Thu Cuc, also a student, said that book reading was appealing to those who love reading books.
"If you're not interested in reading books and you're not a patient person, you can't sit and read for hours," she said.
Besides an interest in books, readers also need to speak clearly and softly to retain listeners' interest for two to three hours, according to Thanh Hao, 20, a student at the University of Economics.
"It seems like an easy job but, in fact, it's not! But I love it since I can earn extra money and have an opportunity to read rare and valuable books that I previously could not access," Hao said.
Many listeners, mostly older people and patients, said they were thrilled to be able to listen to their favourite books and have enthusiastic discussions with the readers.
"The hospital now seems like a friendlier, nicer place to stay as I have something else to do rather than staying in bed," said Kim Quy, 56, adding that she had made friends with some readers.
"I feel younger and more alive," she said.
Phi, 65, who lives in Tan Binh District, said she used to have relatives read to her, but then asked for a paid reader after hearing about the service.
Minh, from Tan Phu District, said his daughter had formed a passion for books ever since he hired a reader for her.
"I found the service to be reasonably priced. My reader loves kids and she's very helpful. I tend to tip her since my house is quite far from hers," he said.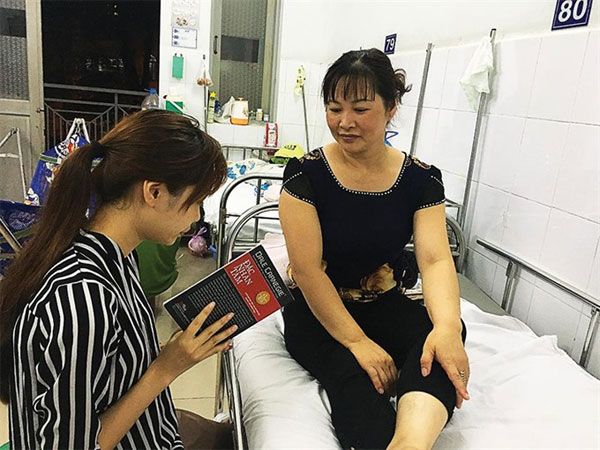 Head for business: A patient gets a sampling of Dale Carnegie. Reading books for a fee has become a popular part-time job for university students in HCM City. Photo sgtiepthi.vn
Challenges
As fun and easy as it may sound, readers like Cuc and Hao have encountered a few problems.
"Clients tend to be specific with their requests, such as book titles and reading duration, but some of them, after I show up at their house, ask me to read different materials," Hao said. "I was asked by an elderly man to read an erotic book when the agreement was to read a romantic novel!"
Cuc said that she once showed up to a client only to find that she had to read to a three- to four-year-old child.
Though reading for children is not difficult, she said she disliked having to act as a babysitter.
Some readers who had been booked to read for seven-year-olds discovered they had been hired to be tutors as well.
Despite the challenges, it is still important for paid readers to be considerate and straightforward when dealing with clients to avoid unnecessary arguments.
"Most of the time I will turn down offers that require me to read after 9pm at private houses," Hao said, adding that she prefers to read to children and that her favourite genres are scientific books, children's books and novels.
"I'll continue to pursue the job since it's flexible and I've found joy bringing joy to people in need of the service," she said.

An Phuong

VNS
Link
http://news.c10mt.com/search/label/vietnambreakingnews
and
http://news.c10mt.com
Links Topics :
http://news.c10mt.com/2017/09/reading-books-to-others-new-job-for.html