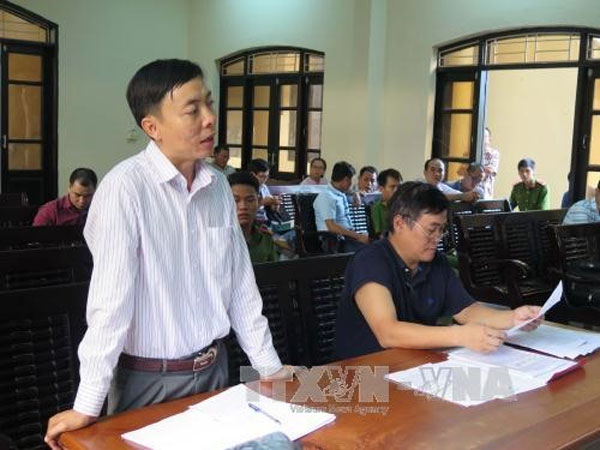 VietNamNet Bridge – Tam Ky City People's Court on Wednesday ordered a shipbuilding company to compensate a seaman after it tested his ship, during which its main machine stopped working.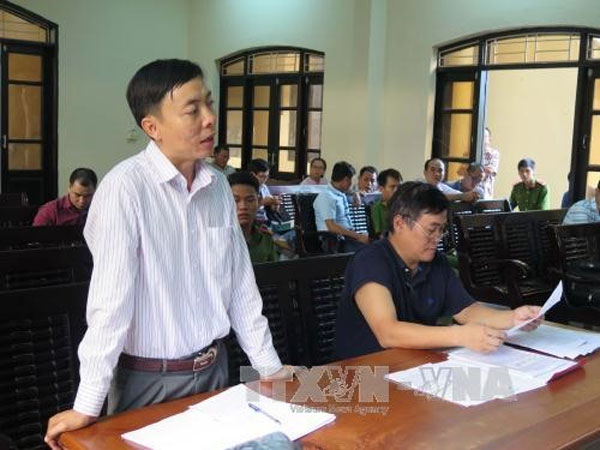 A spokesman from the Bao Duy Shipbuilding Joint-stock Company in court. — VNA/VNS Photo
The court decided that Bao Duy Shipbuilding Joint-stock Company must pay Tran Van Lien VND2.8 billion (US$124,400) as compensation.
The Bao Duy Company was also ordered to pay all court fees.
On September 18, 2015, Tran Van Lien, from Binh Minh Commune, Thang Bình District, in the central province of Quang Nam, signed a contract to build an iron ship with Bao Duy Company.
Lien signed another contract with Lien A Services and Technology Co Ltd to supply the diesel engine for the ship.
Lien's iron ship has 944CV power and is worth more than VND16 billion ($711,100).
According to the contract, Lien A Co Ltd was responsible for assigning experts to Bảo Duy Company to provide guidance for installing the diesel engine, testing it and taking over the ship.
On March 25 and 28 last year, To Ngoc Tiep, a technological expert of Lien A Co Ltd, operated the main machine for the first time with Lien as a witness and the machine worked normally.
A day later, the Bao Duy Company sailed the ship a short distance as part of the trial without supervision from Lien A Co Ltd, and the main machine was broken. The companies blamed each other, and both denying their responsibilities so Lien sued both companies.
In court, Bao Duy Company said that the company had completed all the work and finished its contract with Lien, so was not obligated to compensate him.
Lien's representative asked the two companies to take responsibility for the contracts, compensate Lien for the breakdown and finish the ship completely to hand over to Lien.
Lien A Company said Bao Duy Company voluntarily conducted the trial on March 29 last year without technical supervision from Lien A Company, leading to the breakdown. The Bao Duy Company must be held responsible for all the faults, it maintained.
Based on documents, declarations of concerned organisations and individuals and checks by competent organisations, the Tam Ky City People's Court concluded that the Bao Duy Company was at fault in the case and must compensate the seaman.
Source: VNS
Link
http://news.c10mt.com/search/label/vietnambreakingnews
and
http://news.c10mt.com
Links Topics :
http://news.c10mt.com/2017/09/shipbuilding-enterprise-compensates.html