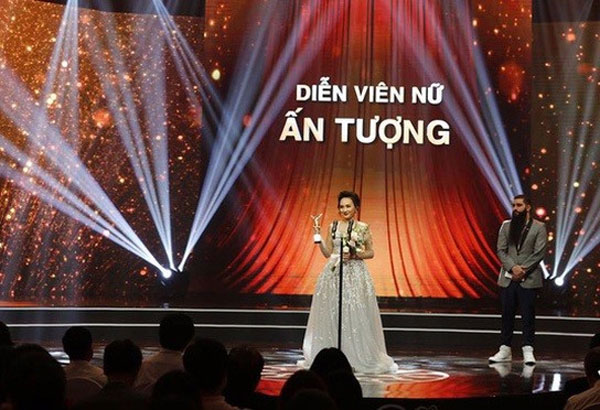 VietNamNet Bridge – Blockbuster TV serial Nguoi Phan Xu (The Arbitrator) was crowned yesterday at the VTV Awards 2017 held in the capital city.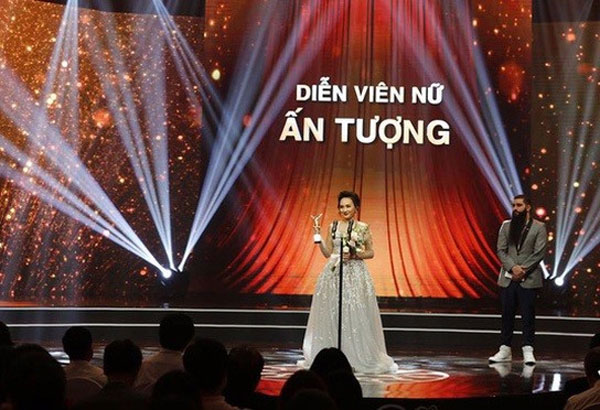 Bao Thanh receives award for Impressive Actress from director Jordan Vogt Roberts. — Photo courtesy of VTV
Directed by Khai Anh, Mai Hien and Danh Dung, the serial, a crime drama, is an adaptation of an Israeli script.
It beat Moscow Mua Thay La (Moscow in Season of Falling Leaves), Song Chung Voi Me Chong (Living with Mother-in-Law), Ngu Lam Khong Kiem (Sons-In-Law) and Tuoi Thanh Xuan 2 (Forever Young 2) to win the Impressive Serial award.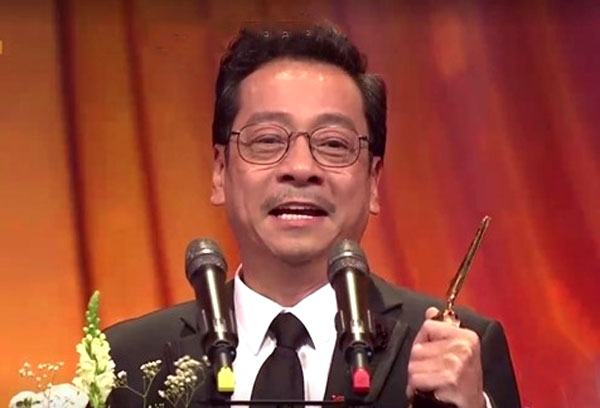 Actor Hoang Dung receives VTV Award for his role in Nguoi Phan Xu (The Arbitrator). — Photo courtesy of VTV
The serial stars Hoang Dung, Viet Anh and Hong Dang. Lead actor Dung also won the title Impressive Actor.
Actress Bao Thanh, meanwhile, won the Impressive Actress award for her roles in Living with Mother-in-Law, The Arbitrator and Hop Dong Hon Nhan (Marriage Contract).
The recipients were thrilled upon receiving the awards. Actor Dung said he felt honoured because of the prestige associated with the VTV Awards. Being appreciated at these awards, meant professional experts and audiences acknowledged his efforts and career.
"I was the oldest among the five finalists, with the others being Viet Anh, Hong Dang, Bao Anh and Kang Tae-oh, they are young actors and have a huge number of fans, so it's amazing, because I didn't think I would receive so many votes," Dung said.
"For me, winning the award is a moment of immense happiness, but winning the hearts of the audience is more important. We will continue to trying and bring good films to the audience."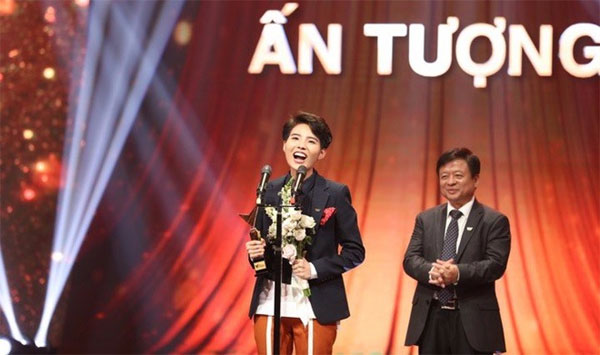 Vu Cat Tuong receives Impressive Singer award from Do Hong Quan, chairman of the Viet Nam Association of Musicians. — Photo courtesy of VTV
The awards have 11 categories, such as Impressive Actor, Impressive Actress, Impressive Comedian, Impressive TV Serial and Figure of the Year.
The winners were determined by audience votes on the official website of the awards, www.antuong.vtv.vn, and the jury's scores.
The 11-member jury includes directors Phan Gia Nhat Linh, Nguyen Quang Dung and Khai Hung, journalists Lai Van Sam and Ho Quang Loi, and musician Quoc Trung.
Launched in 2014, the annual award has received much attention from the audience and specialists.
It is considered a prestigious award honouring popular TV programmes and faces that have captivated the audience.
Source: VNS
Link
http://news.c10mt.com/search/label/vietnambreakingnews
and
http://news.c10mt.com
Links Topics :
http://news.c10mt.com/2017/09/tv-programmes-shows-and-series-honoured.html